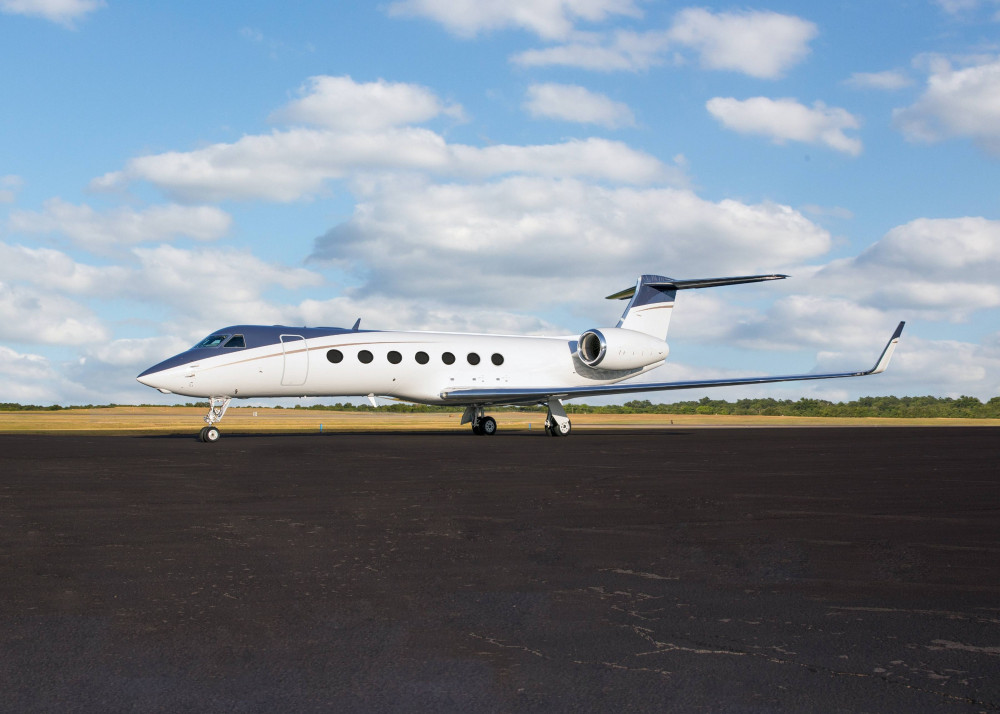 2005 Gulfstream G550
Price: Call for Price
Serial Number:

5060

Hours:

6,088

Cycles:

3,131
Low Time
New Paint 2021
New Carpet 2023
Interior Refurb 2017
192 Month c/w Mar. 2021
72 Month c/w Jan. 2022
Enrolled on Programs
US Registered and Based
14 Passenger / Oversized Aft Galley
Crew Rest
Synthetic Vision System
Offered by:

Newport Beach, CA
Airframe
Engines
Engine Program Coverage:
Rolls Royce Corporate Care (RRCC)
APU
Description:
Honeywell RE220
Total Time Since New:
4,298
Avionics
Honeywell PlaneView Avionic Suite-Cert. I (ASC 913)
Four Honeywell DU-1319 Flat Panel Displays
Triple Honeywell MAU-913 Modular Avionic Units
Triple Honeywell IR-500 LaserREF-V Miro IRUs
Triple Honeywell AV-900 Audio Panels
Dual Honeywell Primus Epic Dual Channel AutoPilot w/AutoThrottles
Dual Honeywell Primus Epic XPNDR "Mode S" (Change 7.1, Flt ID)
Dual Collins HF-9034A HF COMMs
Dual Honeywell RT-300 Radio Altimeter
Single Honeywell TCAS 2000 TCAS w/change 7.1
Dual Honeywell Primus Epic 24 Channel WAAS capable GPSs
Triple Honeywell NZ-2010 FMS (6.1)
Triple Honeywell AZ-200 Air Data Modules
Triple Honeywell Primus Epic Data COMM Radios
Dual Honeywell Primus Epic ADF
Dual Honeywell Primus Epic DME
Single Artex 110-406 ELT (triple frequency, with Nav unit)
Single Honeywell Primus 880 Color Radar w/Dual Control
Single Honeywell LSZ-860 Lighting Sensor System
Single Honeywell XM Weather Receiver
Single Honeywell MCS7000+ SATCOM with Swift Broad Band
Single EMS AMT-50G-141 SATCOM antenna
Single ViaSat BBML Gen3 Satellite Internet System
Single Satcom Direct SDR Internet Router w/Wifi & 3G
Dual Honeywell EGP-100 EGPWS w/RAAS
Single Honeywell VGS HUD System
Single Kolsman EVS FLIR system w/secondary display
Single L3 Systems QAR200 Micro QAR
Single L3 Systems 2100-1225 Digital CVR
Single L3 Systems Digital FDR (Upgraded to 88 parameters)
Navigation and Compliance
SBAS/LVP
ADSB(out)
RVSM
RNP-1, RNP-3, RNP-5, RNP-10
8.33 kHz Spacing & FM Immunity
Inspections
Inspection Type
Performed
Next Due
Additional Equipment/Features
Logo Lights & Pulse Lights
LED Landing and Taxi Lights STC
LED wing and tail NAV Lights
Aft Equip. Bay Storage Box
Mounted Tow Bar
Enhanced Flight ID
Bose cockpit active noise cancelling headsets
Digital copies of Aircraft Logbooks and records
Synthetic Vision System
Honeywell FANS 1/A(CPDLC) w/full size printer.
Interior
Interior Last Refurbished:
2017
14 Passenger/4 Crew
Vestibule: Forward Crew Lav and Crew Rest
Fwd Cabin: Four Electric Single Seats in Club Configuration.
A removable Cabin Curtain separates the Aft and Mid Cabin
Mid Cabin: Two Sets of Double Seats across from a credenza
Aft Cabin: Two Single Seats across from a 4 place Divan
Galley: Oversized Aft Galley/Galley Annex.
Lavatory: Aft Lavatory with opposing Vanity
**The aircraft is operated Part 91, however there are Burn Certs for the Interior.

Galley:
Two Dynamo Galley Cooler Units.
Microwave/ Convection Oven
High Temp Oven
Two TIA TSO'd Coffee makers
30 Gallon Water System
Entertainment
Swift Broadband and ViaSat KU
115V 60Hz Outlets (14)
17" LCD Bulkhead Monitors (2)
7" LCD Personal Seat Monitors (6)
10" LCD Personal Seat Monitors(2)
17" LCD Monitor above credenza
DTS Pass. Audio System
Airshow 4000 Moving Map System
LED Cabin Lighting
Triple Camera System
SDR Router with Wifi
Innovate Advantage HD AVDS
Exterior
White with Blue dark Nose and Tail.
Send a message to Mark Bloomer at JetTransactions