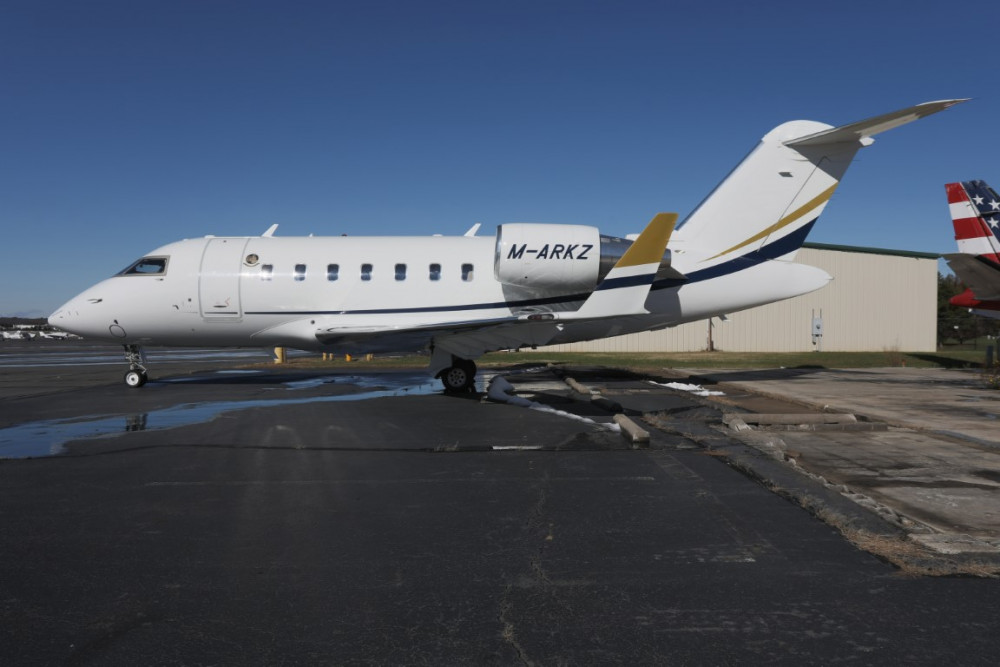 2012 Bombardier Challenger 605
Price: Make Offer
Serial Number:

5879

Tail Number:

M-ARKZ

Hours:

1,938

Cycles:

921
One Owner Since New
ProLine 21 Adv
FANS 1/A+, CPDLC, Datalink 2000+
Collins CMS V10 HD Upgrade
Dual Channel Swift Broadband WiFi
12 PAX Extended Cabin Config
Fully Equipped Fwd Galley
Engines & APU on JSSI
Offered by:

Lincoln, NE
Airframe
Engines
General Electric CF-34-3B
Engine Program Coverage:
JSSI
APU
Description:
Honeywell GTCP36-150 (CL)
APU Program Coverage:
JSSI
Total Time Since New:
1,994
Avionics
EFIS (Electronic Flight Instrument System): Four 10"x12" Flight Displays
Autopilot: Honeywell Autopilot with Autothrottle
FMS (Flight Management System): Dual Collins FMS 6000
IRS (Inertial Reference System): Dual
GPS: Dual Collins GPS-4000
ADC (Air Data Computer): Dual Collins
DME (Distance Measuring Equipment): DME-4000
XPNDR (Transponder): Dual ATC Mode S TDR-94D
WEATHER RADAR: Collins RTA-854
RADIO ALT (Radio Altimeter): Dual Collins ALT-4000
TCAS (Traffic Collision Avoidance System): Dual Collins TCAS II with Change 7.1
VHF Radio (Very High Frequency Radio): Dual Collins VHF-4000
EGPWS (Enhanced Ground Proximity Warning System): Honeywell Mark V Enhanced
ELT (Emergency Locator Transmitter): Artex 406
CVR (Cockpit Voice Recorder): L3 FA2100
FDR (Flight Data Recorder): L3 FA2100
Inspections
Inspection Type
Performed
Next Due
Interior
GALLEY FEATURES: Microwave Oven, High-Temp Oven, Coffee/Espresso Maker, AC Cooled Refrigerator, and Ice Bin with Water Disposal

CONFIGURATION: Forward Four Place Conference Group / Aft Four Place Dining Group Opposite a 4 Place Berthing Divan

JUMPSEAT: Yes
Entertainment
ENTERTAINMENT: Collins CMS V10 High-Definition Upgrade, HD 10.6" Galley Touch Screen Display, Fwd and Aft Bulkhead HD 22" Display Unit, Dual Blu-Ray DVD Player, Dual HDMI Ports, 7 USB Charging Ports, Aviator 700D Inmarsat Satcom, Dual Channel Swift Broadband WiFi (Global VT for one channel and the other for internet), Two Satcom Telephone Handsets (one in cockpit and one near VIP Seat).
Exterior
Overall White with Blue and Gold Stripes.
Send a message to Leah Alexander at Duncan Aviation, Inc.