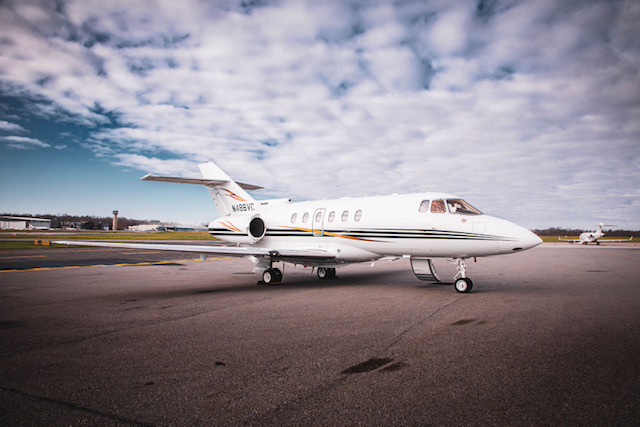 2004 Hawker 800XP
Price: $3,995,000
Serial Number:

258653

Tail Number:

N486VC

Hours:

5,775

Cycles:

3,240
• Fresh E Check by Talon Air, April 2022
• 48 Month Inspection by Hawker Tampa, April 2020
• Modernization Package (SVS, TAWS Mode 5, Upgraded FMSs)
• ATG-4000 Wi-Fi
• Synthetic Vision System (SVS)
• Engines & APU Enrolled on MSP Gold
• Interior Refurbishment c/w April 2020
• Part 135 Compliant
• RVSM/RNP5/RNP10 Compliant
Offered by:

Annapolis, MD
Airframe
Airframe Certification:
FAR Part 135
Fresh E Check by Talon Air, April 2022
48 Month Inspection by Hawker Tampa, April 2020
Engines
Engine Program Coverage:
MSP Gold
APU
Description:
Honeywell GTCP36-150W
APU Program Coverage:
MSP Gold
Total Time Since New:
4,237
Avionics
• Collins Pro Line 21 Avionics with IFIS 5000
• Collins FGC-3000 IFCS Autopilot / Flight Director
• Dual ED-800 EHIS Displays
• Dual File Servers FSU-5010
• DBU 5000 Data Loader
• Dual DB Systems Model 700 Audio Panels
• Dual Collins VHF-422C Comms
• Dual Collins VIR-432 Navs
• Dual Collins ADF-462 ADFs
• Dual Collins DME-442 DMEs
• Dual Collins TDR-94D Transponders
• Dual Collins FMS-6000 FMS (Upgraded)
• Collins Dual GPS 4000
• Collins ALT-4000 Radar Altimeter
• Collins RTA-858 Weather Radar
• CDU Weather Graphic (Single CDU Capability)
• XM Weather Briefer System
• Mark V EGPWS w/Windshear
• Collins TCAS II w/Change 7.1
• Universal CVR-120 Cockpit Voice Recorder
• Dual Collins HF-9000 w/SELCAL
• AFIS
• Artex C406-2 ELT
Navigation and Compliance
B-RNAV (RNP 5) Equipped:
Yes
Modernization Package (SVS, TAWS Mode 5, Upgraded FMSs)
ADS-B
WAAS / LPV
TCAS 7.1
Part 135 Compliant
RVSM/RNP5/RNP10 Compliant
Interior
Interior Last Refurbished:
2020
The cabin features a forward four (4) place club with executive
tables; the aft cabin offers a three (3) place divan opposite a single
(1) chair with table. Belted lavatory seat for ninth (9th) passenger.
The individual chairs offer adjustable seating with surfaces
tastefully completed in Beige colored leather complimented by
beige carpeting and high gloss medium toned highly figured Sapele
woodwork found throughout the cabin. The forward cabin left side
galley includes a microwave oven, ice drawer, china storage and a
slide-out work surface.
Entertainment
Display TV Monitors:
Dual 13.8" LCD Forward & Aft Color Monitors
Airshow System:
Airshow 400 w/Airshow Network & Cabin Briefer
High Speed Internet:
ATG-4000 Wi-Fi
DVD/CD Players:
Audio & Video w/DVD & CD Players
In-Flight Phone:
AirCell Iridium SAT Flight Phone
Hi-Fi Audio System
Fax/Data/Computer Ports
Exterior
Base Paint Colors:
Matterhorn White
Stripe Colors:
Black and Maya Gold Metallic
Send a message to Bob Butcher at Avpro, Inc.