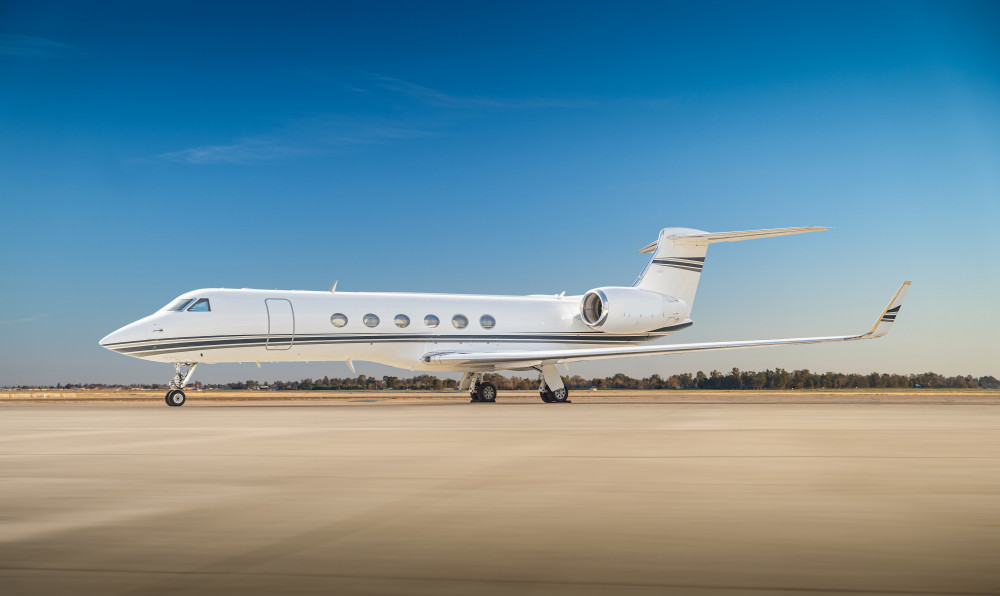 1998 Gulfstream G-V
Price: Make Offer
Serial Number:

V-536

Tail Number:

N318EG

Hours:

7,919

Cycles:

3,442
Delivers with a Fresh 72m Inspection
FANS-1A+
CPDLC
Forward Crew Rest
Engines on RRCC
Low Time Airframe
Offered by:

New Century, KS
Airframe
Airframe Certification:
FAR Part 135
Engines
Rolls Royce BR700-710A1-10
Engine Program Coverage:
Rolls Royce Corporate Care (RRCC)
APU
Description:
Honeywell RE220-GV
Total Time Since New:
5,171
Avionics
Dual Honeywell SPZ-8500 AFCS
Honeywell SPZ-800 FCS EFIS
Honeywell / GEC Marconi Heads-Up Display (HUD) w/
Enhanced Vision System (EVS)
2 Collins VHF-422D VHF Comm Transceivers w/ 8.33 spacing
3 Collins VIR-432 VHF NAV Receivers
3 Collins RTU-4280
2 Collins ADF-462 ADFs
2 Collins DME-422 DMEs
2 Collins TDR-94D Mode S Transponders w/ ADS-B Out v1 (DO-260A)
3 Honeywell NZ-2000 FMS (IAC) w/ 6.1 Software
2 Honeywell HG2021GD02 GPS Sensors (SBAS / WAAS Certified)
3 Honeywell LaserRef III IRS
1 Honeywell Mark V EGPWS w/ RAAS & Windshear Warning System
2 Honeywell RT-300 Radio Altimeters
1 Honeywell Primus 880 Weather Radar
1 Honeywell LD 950 Data Loader
3 Honeywell AZ-840 Micro Air Data Computers
1 Artex 406 MHz ELT
2 Collins RM-855 Radio Management Units w/ Color CDUs
2 Collins HF-9034 HF Communication w/ SELCAL
1 Honeywell AFIS/SAT AFIS
Teledyne Controls Voice Recorder (CVR)
Flight Data Recorder (FDR)
1 Honeywell MCS-6000 SATCOM
1 Honeywell TCAS w/ Change 7.1 (ASC-188B Part 2)
FANS1/A+ Installed in accordance w/Gulfstream STC ST04030AT-D
Navigation and Compliance
Inspections
Inspection Type
Performed
Next Due
Interior
The fourteen (14) passenger interior with crew jump seat features a forward crew rest area, forward crew galley annex, forward crew lavatory, an an aft main galley and aft main lavatory. The interior features a forward-cabin 4-place club, a mid-cabin left-side 4-place divan opposite 2 single club chairs, and an aft-cabin 4-place club opposite a credenza. The club and conference group chairs are upholstered in a light tan leather, the divan is covered in a complementary grey/tan fabric. Grey pattern carpet throughout the cabin. The cabinetry, side panels, and a headliner are finished in a beautiful medium-toned high gloss wood.
Entertainment
High Speed Internet:
GoGo ATG4000
Weights
Basic Operating Weight:
48,279.00
Send a message to Ben Dow at jetAVIVA