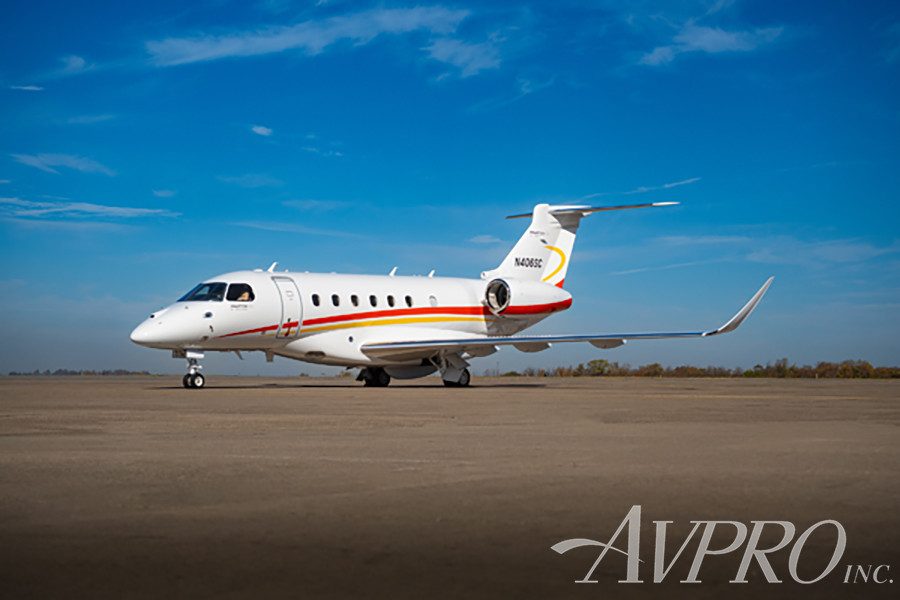 2021 Embraer Praetor 600
Price: Call for Price
Serial Number:

55020143

Tail Number:

N406SC

Hours:

300
• Transferrable Manufacturers Warranties
• One U.S. Owner Since New
• Engines & APU on Honeywell MSP Gold
• Embraer Executive Care (EEC) Standard
• Collins Aerospace ProLine Fusion Avionics
• CPDLC Over ATN (EASA Link2000+)
• FANS 1/A+ CPDLC Package
• ADS-B OUT & IN
• Gogo AVANCE L5
• E²Vs – Embraer Enhanced Vision System
Offered by:

Annapolis, MD
Airframe
Program Coverage:
Embraer Executive Care (EEC)
• Paperless Operation Capability
• Autobrake
• 115V High Power Outlets
• HEPA Filter
• 115 cu. ft. Oxygen Cylinder
• 110 Minutes Cargo Fire Suppression System
• Heating System for Baggage Compartment
• Internal Luggage Compartment Shelves
• Baggage Compartment Ladder
• Pilot Tables
• Servicing Ladder
• Crash Axe
• Towing Kit
• Microwave
• Coffee Maker
• Convection Oven
Engines
Honeywell International HTF7500E
Engine Program Coverage:
MSP Gold
APU
Description:
Honeywell GTCP 36-150
APU Program Coverage:
MSP Gold
Avionics
• Collins Aerospace ProLine Fusion Avionics
• Paperless-Capable Flight Deck w/Fully Integrated:
o Geo-Referenced Electronic Charts
o Enhanced Maps
o Electronic Checklists
• Pilot-Selectable Display on Four (4) 15" Diagonal LCD Screens
• Head-Up Guidance (HUD) w/Enhanced & Synthetic Vision (EVS
& SVS)
• FMS 4D Trajectory
• Inertial Reference System (IRS)
• Datalink Graphical Weather
• Predictive Windshear System (PWS) plus Vertical Weather (VWX)
• Advanced Graphical Flight Planning
• Satellite Datalink Weather (XM)
• MultiScanTM Weather
• Surface Management System
• Third VHF
• Single ADF
• Cockpit Display of Traffic Information (CDTI)
• Dual HF plus SELCAL
• ACARS Datalink Over Iridium
• ELT/NAV
Navigation and Compliance
• CPDLC over ATN (EASA Link2000+)
• FANS 1/A + CPDLC Package
• Provisions for RNP AR 0.3
• Wide Area Augmentation System Localizer Precision Vertical
(WAAS/LPV)
• RNP Capabilities
Additional Equipment/Features
Range.................................................4,018
Max Cruising Speed....................536
Ceiling (feet)....................................45,000
Take off Distance (feet).............4,436
Landing Distance (feet).............2,165
Interior
Beautiful eleven (11) passenger forward galley opposite a single (1) side facing seat, a forward four (4) place club followed by a three (3)
place divan opposite a two (2) place club, the aft belted lavatory (1) seat. The individual chairs are completed in light tan leather, the divan features light tan leather with burnt orange accent striping. The plating is brush satin colored metal complimented by high gloss medium toned cabinetry.
Entertainment
Display TV Monitors:
19" HD LCD Monitors (Upgrade)
Cabin Management System:
Enhanced / Premium Cabin Management System
High Speed Internet:
Gogo AVANCE L5
In-Flight Phone:
Iridium Satellite Phone
Galley Media Compartment
Individual Receptacles w/Two (2) Tablet Holders Included
Exterior
Stripe Colors:
Red and Yellow
Send a message to Bob Rabbitt at Avpro, Inc.