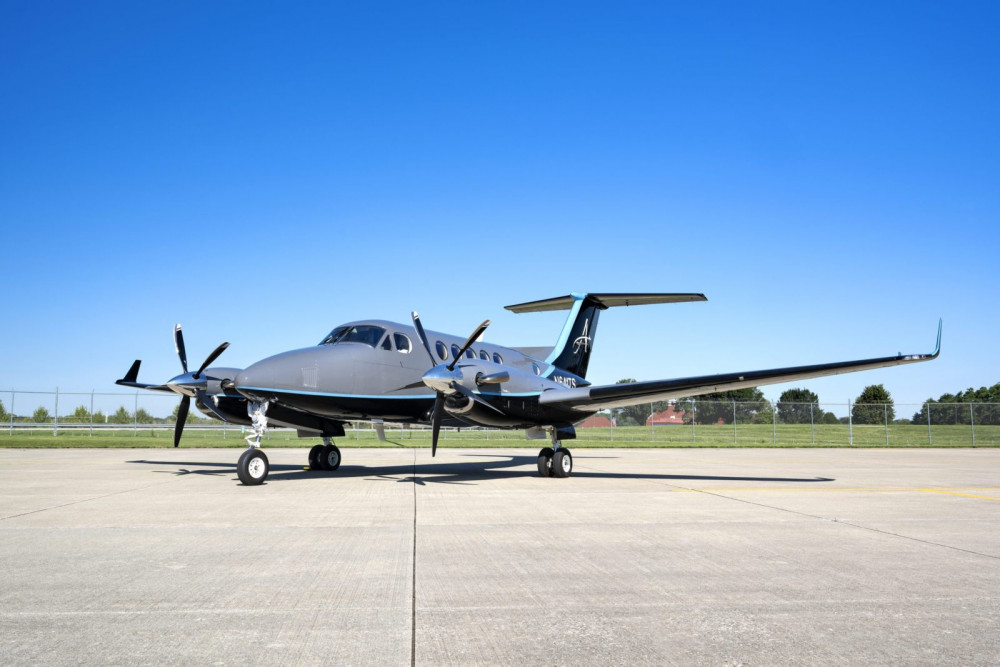 1980 Beechcraft King Air 200
Price: $2,995,000
Serial Number:

BB-641

Tail Number:

N641TS

Hours:

10,467
BLR Winglets
MT 5 Bladed Propellers
New Paint and Interior
Garmin G1000 Avionics Suite
Engines overhauled by Dallas Airmotive
Raisbeck Wing Lockers and Dual Aft Strakes
Offered by:

Indianapolis, IN
Airframe
Cleveland Wheel and Brake Modification (STC SA757GL)
Raisbeck Dual Aft Body Strakes (STC SA3591NM)
Raisbeck Crown Wing Locker System (STC SA3857NM)
BLR Winglets (STC SA01615SE)
Whelen Led Landing and Taxi Lights (STC SA0344BO)
MT 5-Bladed Propellers (STC SA03209NY)
Luma Technologies LED Lighting (STC STC SA2133SE)
Skandia Cabin Insulation and Sound Dampening (STC SA04221CH)
PWI Led Cabin Downwash Lights (STC SA01748WI)
Aviation Fabricators Cabin Window Shades (STC SA01672WI)
Blackhawk Engine Torque and Fuel Flow Transmitters (STC SA01946LA)
Avionics
Garmin G1000 Avionics Suite (STC SA01535WI-D)
Garmin GWX 75 Color Radar
Garmin GDL-69 XM Weather
Garmin GTX 855 TCAS I Collision Avoidance Traffic System
Chartview Enabled
Garmin GTX-345R Transponder (ADS-B IN/OUT)
Garmin GTX-335R Transponder
Flightstream 510 Bluetooth Connectivity
Props
Inspections
Inspection Type
Performed
Next Due
Interior
Interior Last Refurbished:
2022
9 Place Executive Seating with Dual Writing Tables and Dual Storage.
Cabin Seats covered in Garrett Flight Owl Grey and Avion Storm Cloud Leather.
Crew seats covered with Garrett Avion Storm Cloud Leather with Garrett Sheep Ascot Skins.
Upper Side Wall and Overhead panels covered in Sing Classic
Grey Ultraleather.
LED Lights and metal plating throughout.
Glareshield Recovered using Matte Black
Ultraleather from Tapis.
Belted/Flushing Lav with pocket door.
Exterior
Base Paint Colors:
Grey Upper and Black Lower
Stripe Colors:
Bahama Blue and Cool Grey
Send a message to Jim Worrell at Eagle Creek Aviation Services