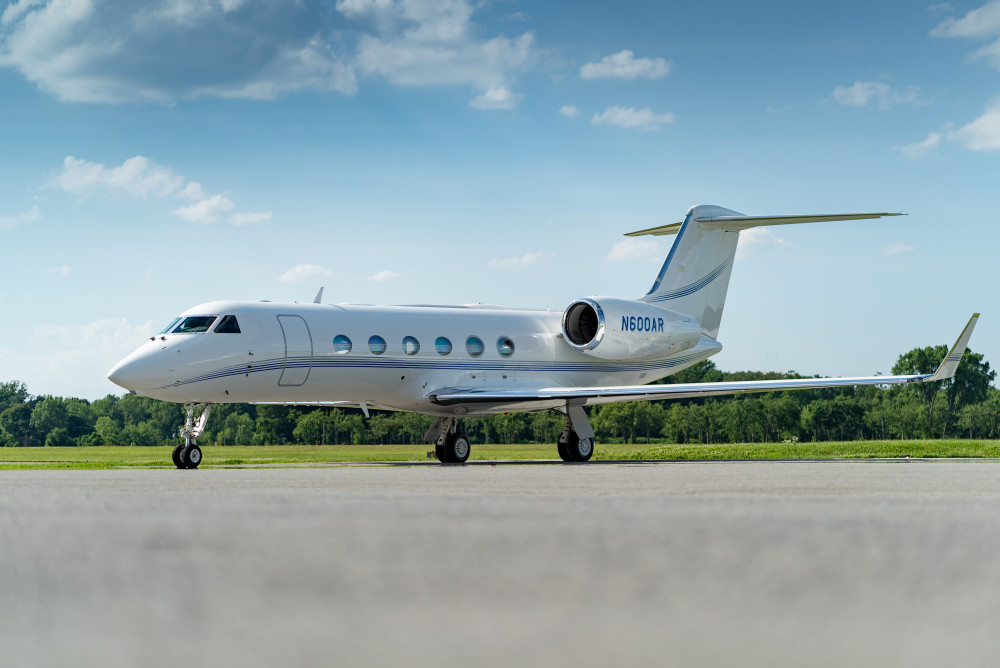 2008 Gulfstream G450
Price: $12,950,000
Serial Number:

4098

Tail Number:

N600AR

Hours:

3,702

Cycles:

1,465
• Low time – 3,702 TTAF
• Broadband Multi-Link (BBML) High Speed Data & Wi-Fi System
• FANS 1/A+, WAAS/LPV, ADS-B Out v2, TCAS 7.1
• U.S. Owned & Registered since new
• Located at Westchester County Airport (HPN), White Plains NY
Offered by:

Leading Edge Aviation Solutions, LLC
Airframe
Entry Into Service Date:
January, 2008
Airframe:
3,702 Hours 1,465 Landings

Date of Manufacture (CofA): September 20, 2007
Entry into Service: January 11, 2008
Engines
Rolls-Royce TAY 611-8C

10 Year Calendar Life c/w 02/23/18
APU
Description:
Honeywell GTCP36-150
Total Time Since New:
2,637
Avionics
Honeywell PlaneView™ Primus Epic Avionics Suite
EFIS: Four (4) 13"x10" Honeywell DU-1310 Display Units w/ Synthetic
Vision Primary Flight Displays (SF-PFD's)
FMS: Triple Honeywell Primus Epic System with TOLD (NZ7.1 Software)
CDU: Triple Honeywell MC-850 Multifunction Control Display Units
ADC: Triple Honeywell AZ-200 Air Data Modules
VGS / HUD: Honeywell Integrated Visual Guidance System™ (Honeywell HUD 2020
Head-Up Display System with Gulfstream Enhanced Vision System™)
IRS / LRNAV: Triple Honeywell IR-500 LASEREF® V Micro IRS
COM RADIOS: Dual Honeywell TR-866B Transceivers
NAV RADIOS: Dual Honeywell NV-875A Navigation Modules & Single Honeywell
NC-860A NAV/COM Module
AFCS: Honeywell Primus Epic Dual Flight Guidance Computers with VNAV
Capability & Integrated Autothrottle
Autopilot: Honeywell Primus Epic Integrated Autopilot System
RMU: Honeywell Primus Epic Integrated Radio Management
DME: Dual Honeywell DM-855
ADF: Dual Honeywell DF-855
ELT: Artex C406-N (406 MHz)
CVR: Honeywell AR Solid State Cockpit Voice Recorder (CVR)
FDR: Honeywell AR256 Solid State Flight Data Recorder (SSFDR)
Flight Phone: Two Independent Systems:
1) Magnastar® C-2000 with Five (5) Handsets &
2) Gulfstream BBML with VoIP and Two Wireless VoIP Handsets
GPS: Dual CMC CMA-4024-1 24-Channel GPS
Hi Frequency: Dual Collins HF-9000 (HF-9034A R/T's)
Radar Altimeter: Dual Honeywell RT-300
SATCOM: Honeywell MCS-7000 7-Channel
TAWS: Dual Honeywell Enhanced Ground Proximity Warning Modules (EGPWS)
TCAS: Honeywell RT-951 TCAS-II w/ Change 7.1
Transponder: Dual Honeywell XS-857A Mode S w/ Enhanced Surveillance &
ADS-B Out v2 (DO-260B)
Weather Radar: Honeywell Primus® 880 Turbulence Weather Radar System w/ Honeywell
LSZ-860 Lightning Sensor System
Standby: L-3 GH-3100 Electronic Standby Instrument System
AUDIO: Triple Honeywell AV-900 Audio Control Panels
DATALINK: Honeywell Communication Management Function (CMF)
Inspections
Inspection Type
Performed
Next Due
500 Hr
Performed:
January 2022 @ 3,600 Hours
1000 Hr
Performed:
January 2019 @ 3,202 Hours
12 Mos
Performed:
January 2022 @ 3,600 Hours
24 Mos
Performed:
January 2022 @ 3,600 Hours
36 Mos
Performed:
January 2020 @ 3,377 Hours
48 Mos
Performed:
January 2020 @ 3,377 Hours
60 Mos
Performed:
January 2019 @ 3,202 Hours
72 Mos
Performed:
January 2020 @ 3,377 Hours
96 Mos
Performed:
January 2016 @ 2,408 Hours
144 Mos
Performed:
January 2020 @ 3,377 Hours
Maintained on the Gulfstream MSG-3 Program. Maintenance Records Tracked on Gulfstream CMP.
Additional Equipment/Features
Major Aircraft Service Changes, Enhancements, & Upgrades:
• ASC 007A/C Maximum Landing Gross Weight - 58,500 Pounds Placard Installation
• ASC 016A Maximum Takeoff Gross Weight (MTOGW) Increase (74,600 lbs.)
• ASC 021 Lightning Sensor System Installation
• ASC 037A/Am1 Synthetic Vision - Primary Flight Display (SVPFD) Installation
• ASC 040A Runway Awareness Advisory-Install (RAAS)
• ASC 044 Nose Gear Door Actuator-Mod
• ASC 045 Engine Electronic Controller - T5.1 Software
• ASC 046 Micro Quick Access Recorder (QAR) Installation
• ASC 051 LED Tail Position Light Installation (Production Installed)
• ASC 058C PlaneView Avionics Enhancement (Cert Fox)
• ASC 059A/B Enhanced Navigation
o Future Air Navigation System (FANS 1/A+) CPDLC
o Wide Area Augmentation System (WAAS) w/ LPV Approaches
o Circling Approaches
o Temperature Compensated VNAV
o Peaks Display
o Electronic Terminal Charts (Certified Paperless Flight Deck)
o Short-Range/Long-Range Navigation (SRN-LRN) Automatic Preview & Transition
o Honeywell Inertial GPS Hybrid (HIGH) Step 1 IRU Upgrade
o Enhanced Global Positioning System (GPS)
• ASC 064 Stage 4 Noise Standards – Certification
• ASC 071 CPDLC - FANS 1/A
• ASC-076 Engine Electronic Controller - T5.2 Software Upgrade
• ASC 077 TCAS 7.1 Installation
• ASC 079B Automatic Dependent Surveillance - Broadcast (ADS-B) Out Install
• ASC 085 Nacelles and Pylons (ATA 54) Aft Pylon Rib Assembly - Drainage Rework
• ASC 086 Flap and Stabilizer Electronic Control Unit (FSECU) - Software Upgrade
• ASC 099 PlaneView Avionics Enhancement
• ASC 106 8.8 kHz Underwater Acoustic Beacon (UAB) Install
• ASC 911A/912 PlaneView Master Operating System Software Update

Additional Features and Modifications:
RNP-1, RNP-10, RNP-2, RNP-4, RNP-5, RVSM Certified
Securaplane Color Camera System w/ 3 External Cameras
Jeppesen Chart & Manual Storage
Dual Davtron M850A Digital Clocks
Voice over Internet Protocol (VoIP) Capability w/ 2 VoIP Handsets
Wireless LAN (Wi-Fi)
SKYLink Antenna (Ku-Band)
Therapeutic Oxygen System
Honeywell Runway Awareness Advisory System (RAAS)
Rosen Cockpit Sunvisor System
Miltope Cockpit Printer
Cockpit Jump seat
STG Electric Cabin Window Shades
Interior
Fourteen (14) passenger fireblocked executive interior featuring a crew jump seat, crew storage and forward lavatory. The forward cabin features four single seats in a club configuration. The mid cabin consists of a 4-place berthable divan opposite 2 single seats. There is a left-hand conference group opposite a credenza in the aft cabin. All single seats are tracking, swivel and recline capable along with electric lumbar and manual pull-out footrests. The club and conference group chairs are upholstered in a light tan leather, the divan in a textured coordinated light tan and brown fabric, complemented by a light tan textured carpet. The wood/cabinetry is a high gloss cherry veneer accented with black pearl satin plated hardware.

The full-service Aft Galley and Galley Annex is equipped to provide full meal and beverage service to passengers. The galley features two (2) TIA coffee makers, BE Aerospace high-temperature oven, microwave oven, stainless steel sink with hot and cold faucet assembly, telephone handset, touch-screen monitor, crystal and cutlery storage, waste container, dirty dish drawer, three (3) 115V/60Hz universal outlets, a pull-out countertop extension, two ice compartments, gasper-cooled wine and beverage storage, food storage compartment with adjustable shelves (gasper cooled), and miscellaneous storage. The private aft lavatory and dressing area features a mirrored, lighted vanity, sink, central vacuum style flushing toilet, ample closet and storage areas, and in-flight accessibility to the spacious 169 cubic feet walk-in aft baggage compartment. Two (2) Winslow 14-man life rafts with triple-frequency ELT (beneath divan).

Cabin entertainment includes Airshow 4000, a CD player, two dual-disc DVD players and stereo audio system. A 20-inch monitor in the fwd left-hand bulkhead, 17-inch monitor at the credenza, and six (6) 7-inch plug-in swiveling monitors that stow flush in the window panel between each two seat club arrangement.
Entertainment
Entertainment:
Gulfstream's Broad Band Multi-Link (BBML) High Speed Data & Wi-Fi System
HD-710 CNX 200 Router
One (1) 20" Monitor in Left-Hand Forward Bulkhead
One (1) 17" Monitor Mounted Above Credenza
Six (6) 7" Plug in Swiveling Monitors for each Club Chair
Two (2) DVD Players
Airshow 4000 Passenger In-Flight Information System
Exterior
Overall Matterhorn White with Kingston Gray and Gloss Blue stripes.
Weights
Max Takeoff Weight:
74,600.00
Max Landing Weight:
66,000.00
Basic Operating Weight:
43,639.00
Send a message to Frank Janik at Leading Edge Aviation Solutions, LLC