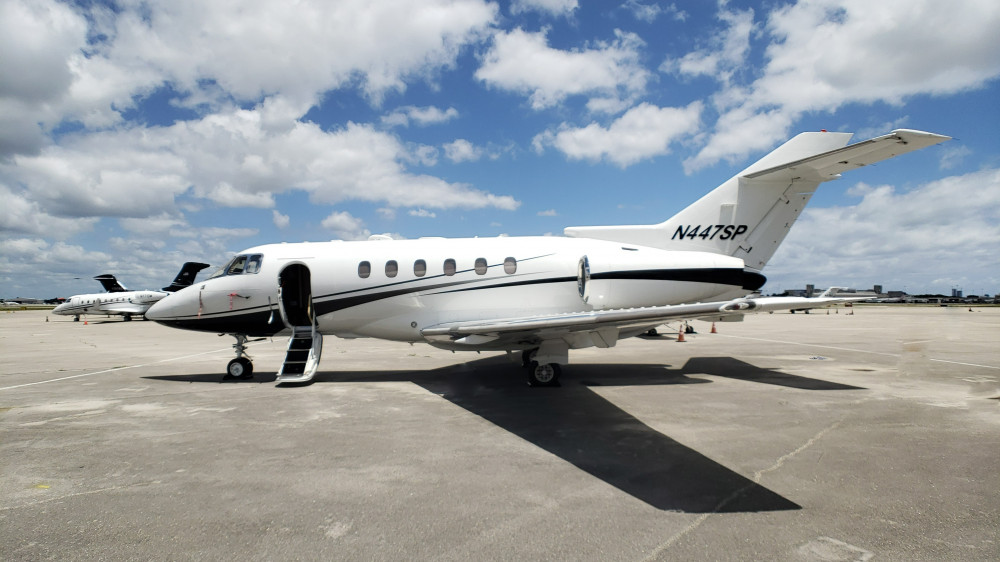 2003 Hawker 800XP
Price: Call for Price
Serial Number:

258618

Tail Number:

N447SP

Hours:

4,614

Cycles:

3,015
Well Equipped, Low Time, Fresh Textron PPI March 2022, Engines & APU on MSP Gold, Avionics on CASP
Offered by:

Lincoln, NE
Airframe
Home Base:
West Palm Beach, FL
Maintenance Tracking:
CAMP
AIRFRAME TOTAL TIME: 4614 Hours
LANDINGS: 3015 Cycles
Engines
ENGINES: Honeywell TFE731-5BR-1H
Engine 1 SN: P-107771 4553 Hours 2976 Cycles
Engine 2 SN: P-107784 4614 Hours 3015 Cycles
Engine Program Coverage:
MSP Gold
APU
APU Program Coverage:
MSP Gold
Total Time Since New:
4,327
Avionics
Maintenance Program:
Collins CASP
AVIONICS/COMMUNICATIONS: Collins Pro Line 21
• AHRS: Dual Collins AHC-3000
• Air Data Computers: Dual Collins ADC-3000
• Automatic Direction Finder: Dual Collins ADF-462
• Cockpit Voice Recorder: Universal
• Communications: Dual Collins 422C w/ 8.33 kHz Spacing
• Distance Measuring Equipment: Dual Collins DME-442
• EGPWS / TAWS: Honeywell Mark V Class A w/Windshear
• Flight Data Recorder: Fairchild F1000 SSFDR
• Flight Director: Honeywell 4-Tube EFIS/Pro Line 21
• Flight Management System: Dual Collins FMS-6000
• Global Positioning System: Dual GPS-4000A
• High Frequency Radio: Collins HF-9000 w/SELCAL
• Navigation Radios: Dual Collins VIR-432 w/ FM Immunity
• Radio Altimeter: Collins ALT-4000
• SAT/AFIS: Honeywell
• SATCOM: Universal Aero-M w/ Dual Handsets
• Traffic Collision: Collins TCAS-4000 w/Change 7
• Transponders: Dual Collins TDR-94D Mode S
• Weather Radar: Collins TWR-850 w/ Turbulence Detection
Additional Equipment/Features
ADDITIONAL FEATURES:
Artex C406-2 ELT
Cabin Smoke Detector System
Cockpit Speaker Mute Switch
FAR Part 135 Equipped and Maintained
GCCA CAR OPS Compliant
MNPS Compliant
Observer Jump Seat
Rosen Sun Visors
RVSM Compliant
Safeflight Angle of Attack
Steep Approach Mod
Tail Logo Lights
Two Supplemental 750 Liter Oxygen Bottles (Long Range Oxygen)
Interior
INTERIOR
Nine total passenger seats
Eight passenger executive cabin configuration
Fwd 4-place club
Aft RH 3-place side-facing divan
Aft LH forward facing single club
Belted lav seat

Interior soft goods replaced and hard goods refurbished in 2015.

Garrett Leather seats for cabin, cockpit, jumpseat, and lav in Avion Cotton (cream). Ultraleather Vanilla Cream headliner and window shade covers, Vibrato Beach (light brown) fabric lower side walls, and custom light brown Avant Classic 100% wool carpet by RedRock throughout.

Fixtures are plated in Satin Black Nickel, and all cabinetry is finished in high-gloss Sapele Pommele mahogany veneer throughout.

Forward galley includes TIA microwave, TIA coffee maker, and ice / cold storage drawer. Storage closets in forward and aft cabin both include cargo nets and snap-closure curtains.

Cabin entertainment includes Airshow 400, DVD/CD player, and both forward and aft flat panel screens. Cabin also features passenger climate control and 100-volt AC power outlets.
Exterior
Base Paint Colors:
Matterhorn White
Stripe Colors:
Diamond Silver & Black
Overall Matterhorn White fuselage with Diamond Silver and Black accent detail, 2015
Send a message to Leah Alexander at Duncan Aviation, Inc.