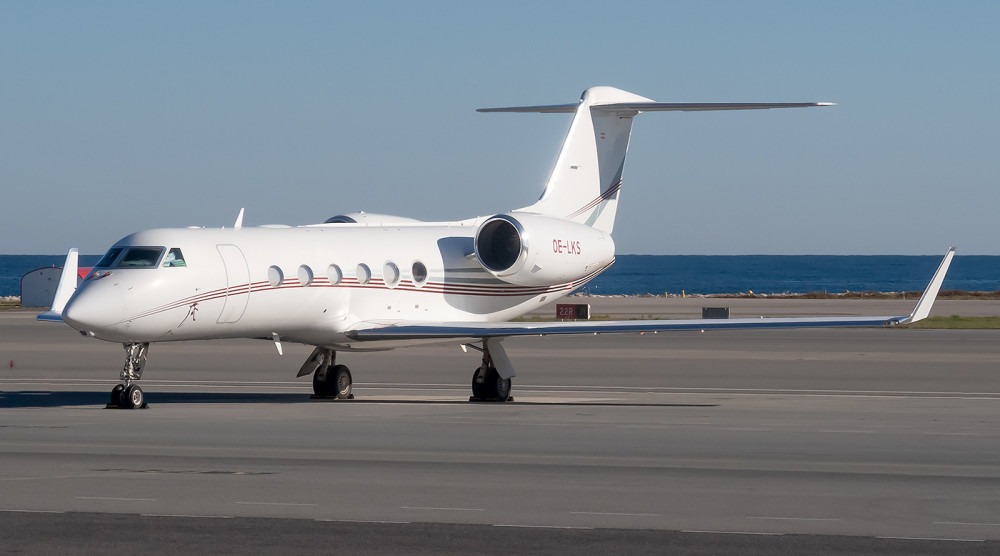 2012 Gulfstream G450
Price: Make Offer
Serial Number:

4260

Tail Number:

OE-LKS

Hours:

1,857

Cycles:

771
Located in Basel, Switzerland
96 Month Inspection by GAC-Savannah, February 2021
Thirteen (13) Pax Forward Galley "Elite" Interior
SVS / EVS / HUD
FANS 1/A+, WAAS / LPV
Engines on Rolls Royce Corporate Care
APU on Honeywell MSP Gold
Offered by:

Annapolis, MD
Airframe
Engines
Engine Program Coverage:
Rolls Royce Corporate Care (RRCC)
APU
Description:
Honeywell GTCP 36-150
APU Program Coverage:
MSP Gold
Total Time Since New:
1,723
Avionics
Gulfstream PlaneView Avionics
Synthetic Vision 2.0 System (SVS)
Kollsman Enhanced Vision System II (EVS)
Head Up Display (HUD)
Honeywell IFCS Autopilot / Flight Director
Honeywell GP-500 Flight Guidance Panel
Four (4) Honeywell DU-1310 Flat Panel Display Units
Triple Honeywell MC-850 Multifunction Control Display Units
Dual Honeywell DC-884 Display / DP-884 Brightness Panel
Dual Cursor Control Devices
Dual Honeywell TR-865A Comms
Honeywell NC-860A/875A Navs
Honeywell DF-855 ADF
Honeywell DM-855 DME
Honeywell MC850 FMS
Honeywell CMA-4024 GPS
Triple Honeywell IR-500 LASEREF V
Triple Honeywell MAU-16U Modular Avionics Units
Triple Honeywell AZ-200 Air Data Modules
Goodrich GH-3100 Standby Attitude/Altitude/Airspeed
Honeywell Primus WU-880 Weather Radar w/Dual WC-94 Controllers
Dual Honeywell RT-300 Radar Altimeter
Dual Honeywell WC-874 Weather Radar Controllers
EGPWS w/Windshear
Honeywell RT-951 TCAS-2000
Collins HF-9034A HFs
Dual Honeywell KRA-405B Radio Altimeters
Dual Honeywell MRC-855 Modular Radio Cabinets
Triple Honeywell AV-900 Audio Panels
L3 Cockpit Voice Recorder
Navigation and Compliance
PlaneView Enhanced Navigation
Additional Equipment/Features
SecuraPlane Three (3) Camera System
SecuraPlane Pre-Flight Security System
Honeywell LSZ-860 Stormscope
Dual Davtron Digital Clocks
Dual 60Hz Converters
Two (2) Coffee Makers
Multi-Function Printer
Facsimile
Microwave oven
Ice Drawer
Interior
Thirteen (13) passenger "Elite" interior featuring Enhanced Soundproofing. The forward fully equipped galley is followed by a forward four (4) place club arrangement, a mid-cabin four (4) place conference group and an aft two (2) place club opposite a three (3) place divan.
Entertainment
Display TV Monitors:
Forward & Aft Bulkhead 24'' LCD Widescreen Monitors
Airshow System:
Airshow 4000
Cabin Management System:
Gulfstream Cabin Management System
High Speed Internet:
Swift Broadband Internet
DVD/CD Players:
Blu-ray DVD/CD Player
In-Flight Phone:
AirCell Axxess II Iridium w/Three Wireless & One Corded Handsets
Connectivity:
Swift Broadband Internet
ViaSat Broadband Multi-Link System
AirCell Axxess II Iridium w/Three Wireless & One Corded Handsets
Honeywell MCS-7000+ Satcom
Honeywell HD-710 High-Speed Data

Entertainment:
Gulfstream Cabin Management System
Airshow 4000
Blu-ray DVD/CD Player
Forward & Aft Bulkhead 24'' LCD Widescreen Monitors
One (1) 19''LCD Monitor above Credenza
9'' HD LCD Individual Monitors at Each Chair
Exterior
Stripe Colors:
Red & Gray Accent Striping
Send a message to Bob Butcher at Avpro, Inc.