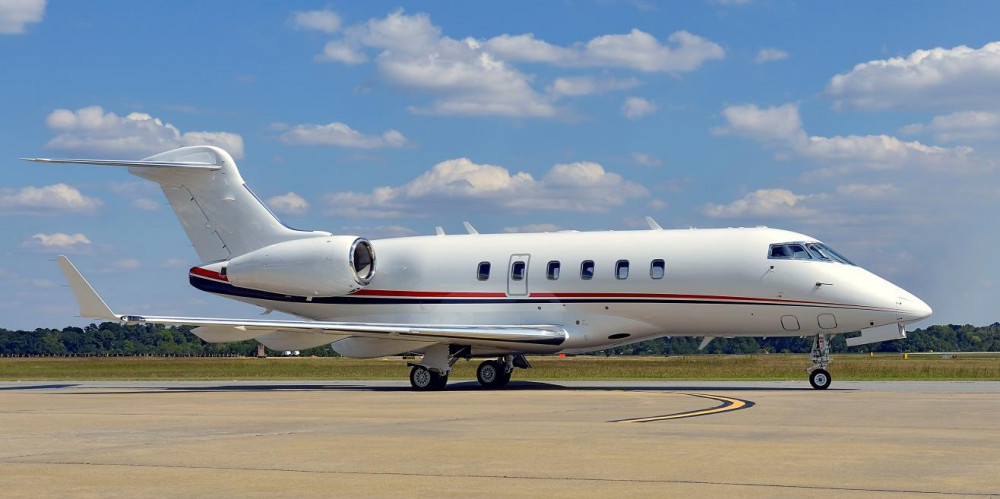 2011 Bombardier Challenger 300
Price: Make Offer
Serial Number:

20306

Tail Number:

N00CG

Hours:

2,835

Cycles:

1,838
Phenomenal U.S. Corporate Pedigree
Proline 21 Advanced Avionics
Desirable 9 Passenger Configuration + Belted Lavatory
Gogo L5 Avance 4G Wi-Fi
XM Weather
ADS-B Out / WAAS / LPV
Engines & APU on MSP Gold
Aircraft on Smart Parts Program
Offered by:

Annapolis, MD
Airframe
Program Coverage:
Bombardier SmartParts
Maintenance Tracking:
CAMP
Engines
Engine Program Coverage:
MSP Gold
APU
Description:
Honeywell GTCP 36-150 (BD)
APU Program Coverage:
MSP Gold
Total Time Since New:
2,285
Avionics
Proline 21 Advanced Avionics Suite
Rockwell Collins Proline 21 EFIS
Rockwell Collins Proline 21 w/Dual File Servers
Dual FGC-3002 Autopilot / Flight Guidance Computers
Dual Collins FSU-5010 IFIS File Servers
Triple VHF-4000 Comms w/8.33 Spacing
Dual NAV-4000 Navs w/FM Immunity
NAV-4000 ADF w/ADF Receiver
Dual Collins DME-4000 DMEs
Dual Collins AHC-3000 AHRS
Dual Collins ADC-3000 ADCs
CMU-4000 Data Link
Dual TDR-94D Mode S Transponders w/Enhanced Surveillance
Dual FMC-5000 Flight Management System
Dual GPS-4000S w/WAAS
Dual HF-9031A HFs w/SELCAL
Collins ALT-4000 Radio Altimeter
Collins MDC-4100 Maintenance Diagnostics Computer
TAS-5000 TAWS Mark VIII EGPWS
Collins TTR-4000 TCAS II w/Change 7.1
Collins RTA-854 Weather Radar
XMWR-1000 XM Weather
L3 FA2100 Flight Data Recorder
L3 FA2100 SSCVR Cockpit Voice Recorder (120 minutes)
Artex C-406N ELT w/Navigation Interface
Navigation and Compliance
B-RNAV (RNP 5) Equipped:
Yes
ADS-B Out (SB-100-34-28)
WAAS / LPV
MNPS / VNAV / BRNAV
RVSM Compliant
TCAS 7.1
FM Immunity / 8.33 Spacing
Inspections
Inspection Type
Performed
Next Due
800 Hours
Performed:
May 2019 @ 2,470 Hours
1200 Hours
Performed:
October 2021 @ 2,744 Hours
1600 Hours
Performed:
May 2019 @ 2,470 Hours
2400 Hours
Performed:
September 2016 @ 1,797 Hours
Additional Equipment/Features
Data Base Loader Upgrade to DBU 5010E
Fire Blocking Dual File Servers
LED Cabin Lights
Pulsating Main Lights
Wing Tip Strobe Lights
Service Panel Lighting
Two (2) Lighted Chart Holders
Enhanced Map OverlaysCockpit Mute Switch
Exterior Door / Access Panel Locking Package
Long Range O2 Tanks
Microwave
Large Ice Drawer
Two Heated Liquid Storage Containers
Interior
Beautiful nine (9) passenger configuration features a double club configuration, a forward fully equipped galley and a belted 16G aft lavatory.

The club chairs are fully articulating/berthable chairs in 100% Sierra Cowhide leather with Dado storage boxes. Seats 3 & 4 have leg rests. The upper cabin sidewalls (New 2014); the cabin headliner is Milkweed Ultraleather. The full forward galley & vanity countertops are polished stone veneer. Cabinetry is high-gloss Sand Beige complimented by Satin Gold 24K colored plating. A private full aft lavatory & vanity with entrance to external baggage.
Entertainment
Display TV Monitors:
Forward & Aft 19" LCD Bulkhead Monitors
Airshow System:
Airshow 4000
Cabin Management System:
Lufthansa Nice Cabin Management System
High Speed Internet:
Gogo L5 Avance 4G Wi-Fi
DVD/CD Players:
Dual DVD Players
Connectivity:
Gogo L5 Avance 4G Wi-Fi
Iridium ICS 200 2-Channel Flight Phone
Three (3) Handsets(Cockpit, Forward & Aft Cabin)
Two (2) 110V Outlets (Cockpit)
Four (4) 110V Outlets (Cabin)

Entertainment:
Lufthansa Nice Cabin Management System
Forward & Aft 19" LCD Bulkhead Monitors
Dual DVD Players
Airshow 4000
Touch Pad Controls
Exterior
Base Paint Colors:
Matterhorn White
Stripe Colors:
Bright Poppy Red & Aristo Blue Accent Striping
Overall Matterhorn White with Bright Poppy Red & Aristo Blue Accent Striping
Weights
Max Takeoff Weight:
38,850.00
Max Landing Weight:
33,750.00
Max Zero Fuel Weight:
27,000.00
Basic Operating Weight:
24,114.00
Send a message to Eddie Kilkeary III at Avpro, Inc.