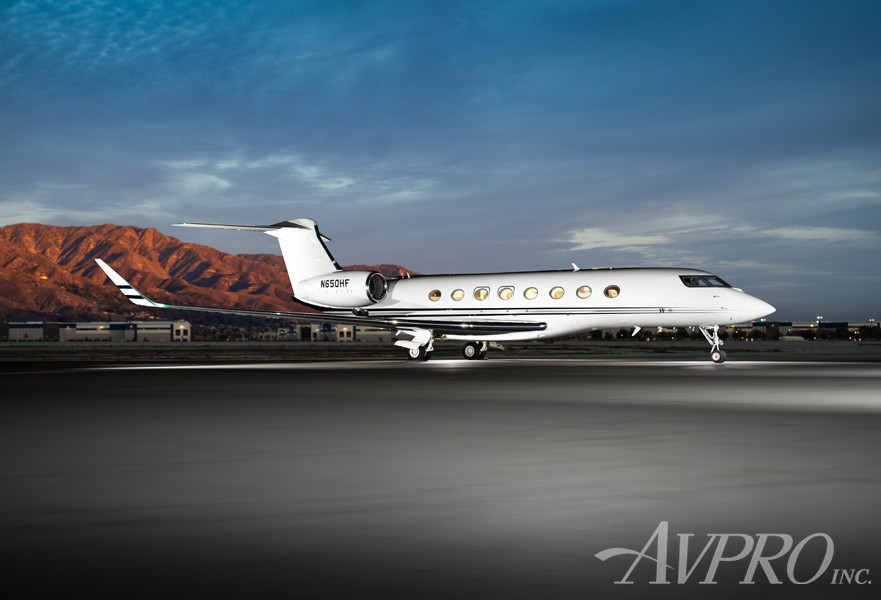 2015 Gulfstream G650ER
Price: Make Offer
Serial Number:

6117

Tail Number:

N650ER

Hours:

1,942

Cycles:

1,058
One U.S. Operator Since New (20 Year Gulfstream Experienced Operator)
Maintained by Gulfstream
Honeywell Jet Connex KA Band High-Speed Broadband Data System
Aircell ATG-4000 GoGo Biz High Speed Internet
Swift Broadband High Speed Internet
FANS-1/A/CPDLC/ADS-B Out
Enhanced Navigation
Current with all PlaneView System Block Upgrades
G650 with Extended Range (ER) ASC 014D
Lightning Sensor System ASC 006B
Predictive Windshear ASC 007A
Runway Awareness Advisory System ASC 005B
Enrolled on RRCC, MSP, Gulfstream AOS
Offered by:

Annapolis, MD
Airframe
Engines
Engine Program Coverage:
Rolls Royce Corporate Care (RRCC)
APU
Description:
Honeywell RE220 (GVI)
Total Time Since New:
1,474
Avionics
Gulfstream PlaneViewTM II / Honeywell Primus Epic Avionics
Advanced Flight Control system
PlaneConnectTM
Head Up Display (HUD II)
Enhanced Vision System (EVS II)
Synthetic Vision - Primary Flight Display (SV-PFD)
Emergency Vision Assurance System (EVAS)
Triple LASEREF VI Inertial Reference System (IRS)
Dual Mode "S" Transponders
Triple NextGen Flight Management Systems (FMS)
Dual GPS
Dual HF Receivers
Triple VHF Comms
Triple Modular Avionics Units
Automatic Emergency Descent Mode (EDM)
RDR-4000 3D Weather Radar w/Predictive Windshear Activation
Lightning Sensor System ASC 006B
Enhanced Ground Proximity Warning System (EGPWS)
Traffic Collision Avoidance System (TCAS 7.1)
Digital Flight Data Recorder
Flight Deck Voice Recorder (Datalink Recording)
Navigation and Compliance
FANS-1A / PM-CPDLC / ADS-B Out
Runway Awareness Advisory System ASC 005B
Part 135 Compliance (Up to 12 Hours)
EASA STC Validation
Additional Equipment/Features
Aircraft Health Trend Monitoring System (AHTMS)
Securaplane 500 Aircraft Security System
External Color Camera Includes Three (3) Cameras
Electric Window Shades
Electrically Operated Console Tables
Two (2) Winslow Thirteen (13) Man Life Rafts w/Triple Frequency ELT (FAA Part 135/EU-OPS 1 Compliant)
Baggage Compartment Hinged Shelf
Second Aft Equipment Bay Storage (Maintenance Storage)
Two (2) 20 Gallon Conformal Water Tanks
Interior
Thirteen (13) Passenger Fire blocked Universal Forward Galley configuration with a Crew Compartment. Three cabin zones offer passengers the ultimate atmosphere for entertaining, relaxation and productivity.

The forward cabin features a Crew Rest area opposite a forward lavatory. The fully equipped galley offers a ten (10) cup TIA Coffee Maker, Iacobucci/HF Aerospace Espresso Maker, Microwave, Convection Oven w/overboard vent as well as a refrigerator with removable shelves & a freezer compartment.

The forward cabin offers a convenient bulkhead pocket door separating the galley and passenger area. The forward cabin area features a four (4) place club arrangement with electrically operated console tables.

The mid cabin offers a four (4) place conference table opposite a credenza. The electric pocket door provides additional privacy between the mid and aft cabin zones.

The aft cabin features a three (3) place divan opposite a two (2) place club arrangement. Aft passenger lavatory w/bidet sprayer.

Seats & Divans Light Grey Leather with black piping accent
Plating Polished Silver
Carpet Black and Gray Toned Herringbone Patterned
Accent Pillows Black & Gray Tones
Countertops Upgraded Quartz Polymer Countertops (Bellingham)
Galley Flooring Woven Grey Vinyl w/ Spare Carpet Overlays
Veneer Composite Brown Ebony
Headliner China White Tapis Suede
PSU & Upper Sidewall Ultraleather in Arctic Grey
Entertainment
High Speed Internet:
Aircell ATG-4000 GoGo Biz High Speed Internet
DVD/CD Players:
One (1) Dual Slot Blu-ray/DVD/CD player w/Dual 160GB Media Servers
In-Flight Phone:
Aircell Axxess II Iridium Satellite Telephone System
Gulfstream CabinView Passenger Flight Information System
One (1) 17'' Widescreen HD LCD Flush Mounted (Crew Rest)
One (1) 26'' Widescreen HD LCD Monitor (Forward RH Bulkhead)
One (1) 26'' Widescreen HD LCD Monitor (Credenza)
One (1) 26'' Widescreen HD LCD Flush Mounted (Aft LH Bulkhead)
Six (6) 12.1'' Widescreen HD LCD Monitors (Inboard Armrests)
One (1) Dual Slot Blu-ray/DVD/CD player w/Dual 160GB Media Servers

Connectivity:
Honeywell Swift Broadband High-Speed Data (MCS-7120)
Aircell ATG-4000 GoGo Biz High Speed Internet
Satcom Direct Datalink Service Provider Subscription
Honeywell INMARSAT Satellite Communication System
Aircell Axxess II Iridium Satellite Telephone System
CNX-200 Cabin Router (WLAN)
Air-to-Ground Link
Exterior
Base Paint Colors:
Matterhorn White
Stripe Colors:
Black & Titanium
Send a message to Bob Rabbitt at Avpro, Inc.