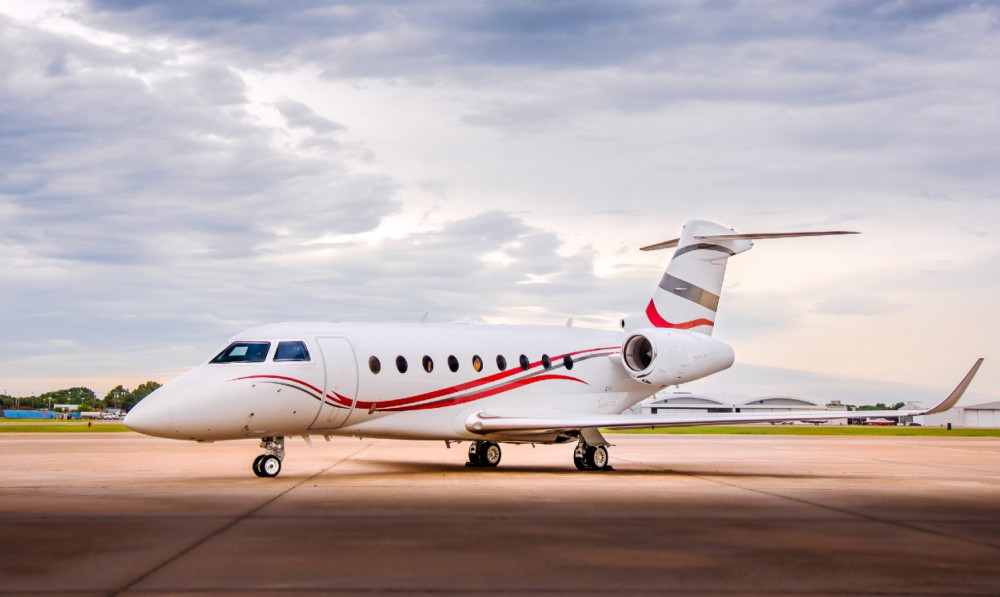 2013 Gulfstream G280
Price: Make Offer
Serial Number:

2007

Tail Number:

N280GP

Hours:

2,528

Cycles:

1,208
Fresh ARCS/Pre-Purchase Inspection at Gulfstream, Nov. 2021
One Owner Since New
Engines & APU on MSP Gold
Enrolled on CASP
Always Hangared & Professionally Operated
ADS-B Out, WAAS/LPV, CPDLC, FANS-1A
Aircell GoGo Biz High Speed Internet
Aircell Axxess II
Gulfstream Cabin Management System
Offered by:

Annapolis, MD
Airframe
Program Coverage:
Aux Advantage, Bacon Low Utilization, Bombardier SmartParts, Bombardier SmartParts Plus, Cessna ProAdvantage, Cessna ProParts, Cessna ProTech, Dassault FalconCare, Embraer Executive Care (EEC), Embraer Executive Care Enhanced (EEC Enhanced), Flight Ready, FlightLevel, GCMP, Gulfstream PlaneParts, JSSI Parts, JSSI Platinum Plus, JSSI Plus, JSSI Tip-to-Tail, LUMP (Low Utilization Maintenance Program), MPP, MSG-3, MyCMP, P2 (Flight Ready Service Plan), P3 (Flight Ready Service Plan), Pilatus CrystalCare, Sikorsky Powertrain Assurance Program (PAP), SPP Parts, SupportPlus
Engines
Engine Program Coverage:
MSP Gold
APU
Description:
Honeywell GTCP 36-150
APU Program Coverage:
MSP Gold
Total Time Since New:
1,768
Avionics
Gulfstream PlaneView 280 Avionics (V3.6)
Electronic Flight Instrument System (EFIS)
Electronics Standby Instrument System (ESIS)
Dual Collins AFCS Flight Director / Autopilot
Triple Collins VHF-4000 Comms
Dual Collins NAV-4000 Navs
Dual Collins NAV-4000 ADFs
Dual Collins DME-4000 DMEs
Dual Collins TDR-94 Mode S Transponders
Triple Collins CDU-6200 FMS
Dual Collins GPS-4000S 12-Channel GPS
Honeywell Laseref VI IRS
Dual Honeywell AH-3200 Altitude Heading Reference System
Dual Collins Air Data Computers
Dual Collins ALT-4000 Radio Altimeter
Dual Collins TPM-6000 TAWS
Collins RTA-4118 TCAS II w/Change 7.1
Dual HFs
Collins Datalink
Collins RTA-4118 Multi-Scan Color Weather Radar
XM Weather
Multi-Purpose CVR & FDR
Artex ELT
Navigation and Compliance
FANS-1A
ADS-B Out/CPDLC
WAAS/LPV
Collins RTA-4118 TCAS II w/Change 7.1
RVSM Compliant
Additional Equipment/Features
Tail Mounted Camera
Auto Throttle
Auto Brakes
Forward Cabin Pocket Door
Cockpit Jump / Observer Seat
Jeppesen Storage
Life Rafts
Dual Electronic Charts & Overlays
Ten Gallon Pressurized Water System
Coffee Maker
High Temp Oven
Interior
Ten (10) passenger, two (2) crew configuration featuring a forward fully equipped galley with a sliding pocket door for additional privacy. The forward cabin offers a four (4) place club followed by an aft four (4) place conference group opposite a three (3) place divan; certified for two (2) passengers. Aft lavatory.

All individual chairs are covered in light colored leather complimented by the coordinating fabric divan. The cabinetry is medium toned and completed in a high gloss finish.
Entertainment
High Speed Internet:
Aircell GoGo Biz High Speed Internet
In-Flight Phone:
SATCOM Flight Phone (1 Cockpit & 2 Cabin Handsets)
Connectivity:
Aircell GoGo Biz High Speed Internet
Aircell Axxess II
SATCOM Flight Phone (1 Cockpit & 2 Cabin Handsets)
Exterior
Stripe Colors:
Red & Gray Accent Striping
Send a message to Don Bass at Avpro, Inc.