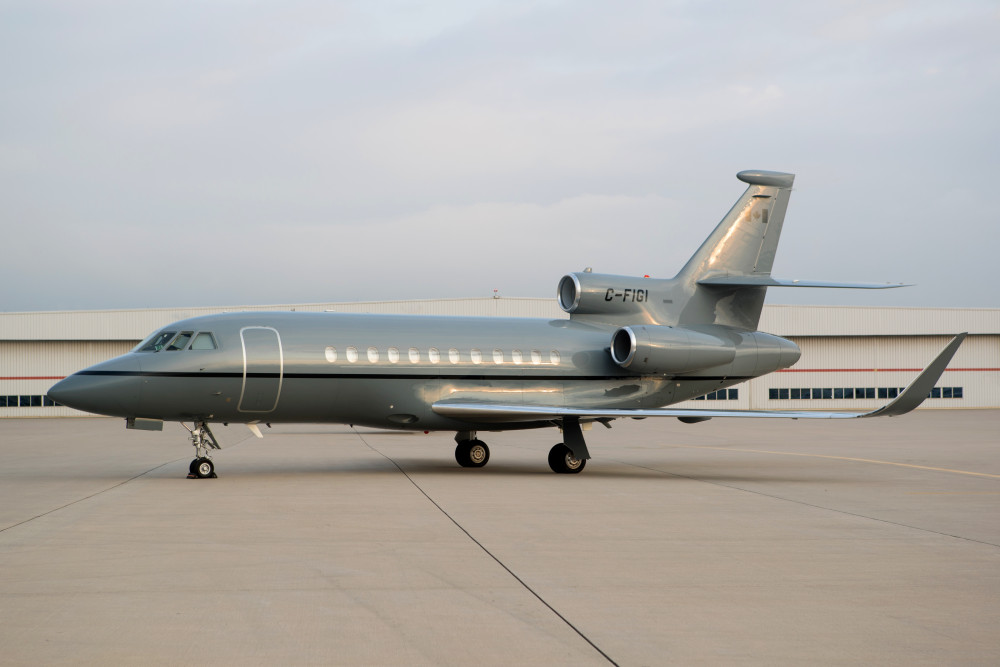 1999 Dassault Falcon 900EX
Price: $10,495,000
Serial Number:

046

Tail Number:

C-FIGI

Hours:

5,307

Cycles:

2,199
• Canadian Certified Falcon 900EX
• Engines & APU on MSPG
• Gogo Biz® AVANCE L5 (4G) Hi-Speed Broadband
• Major Interior Refurbishment & New Strip/Paint September 2015 @ StandardAero
• Thrane and Thrane Aviator 700D SBB
• Located at Toronto Airport, YYZ
Offered by:

Leading Edge Aviation Solutions, LLC
Parsippany, New Jersey
Airframe
Entry Into Service Date:
August, 1999
Airframe:
5307.7 Hrs. 2,199 Landings

Certification of Airworthiness:
August 20, 1999

Entry into Service:
August 1999
Engines
Honeywell TFE-731-60-1C

Engine 1: MPI & CZI c/w 12/13 2018 at 4916.6 Hrs.

Engine 2: MPI & CZI c/w 12/14 2018 at 4916.6 Hrs.

Engine 3:
MPI & CZI c/w 12/01 2018 at 4874.1 Hrs.
Engine Program Coverage:
MSP Gold
APU
Description:
Honeywell GTCP36-150(F)
APU Program Coverage:
MSP Gold
Total Time Since New:
2,894
Avionics
Honeywell Primus Elite 2000 Avionics Suite
Dual Honeywell Primus II EFIS w/DU-875 Displays
Triple Collins VHF-422C Com Radios
Triple Collins VIR-432 Nav Receivers
Dual Honeywell ADF-462
Dual Honeywell DME-442
Dual Collins TDR94D Transponders Mode S
Single Honeywell Primus 880 Weather Radar
Dual Honeywell AZ-840 Air Data System
Triple Honeywell IC-800 Flight Management System w/ 6.1 update
Triple Honeywell FMS CD-830 Control Display Units
Triple Honeywell LASEREF III IRS
Dual GLSSU 12 Channel GPS Units
Single Honeywell DL1000 Data Loader
Dual Collins HF-9000 HF with SELCAL
Single Collins TCAS-II w/ change 7.1
Single Honeywell EGPWS
Single Standby Attitude Indicator
Single Honeywell FDR 980-4700-025
Single Honeywell Cockpit Voice Recorder
Single Thrane and Thrane aviator 700D
RVSM Authorization 8.33 Spacing
Inspections
Inspection Type
Performed
Next Due
Land Gear Overhaul (144 Mo.)
Maintenance: Engines Enrolled on Honeywell MSPG APU Enrolled on Honeywell MSPG Maintenance Records Tracked on CAMP On Chapter 5 A-Type Inspection Schedule (Non-OCIP) 1C Max Ext: 10/22/2022 2C Max Ext: 10/22/2022 Land Gear Overhaul Max Ext: 04/25/2023
Additional Equipment/Features
Major Aircraft Service Changes, Enhancements, & Upgrades:

• Gogo Biz® AVANCE L5 (4G) Hi-Speed Broadband
• Thrane and Thrane Aviator 700D SBB
• Satcom Direct Router
• ADS-B Out v2 (DO-260B)
• TCAS 7.1
• Wing Tank Modification (Dry Bay Mod) Completed SB F900ex.329 CW 11/4/2011
• Honeywell/Falcon Elite Avionics Suite
• Enhanced Navigation w/ WAAS LPV FMS 6.1
• Honeywell DU-875 Flight Displays System
• Level D SATCOM – Aviator 700D
• CPDLC – FANS1/A
• Collins Venue Hi-Definition Cabin Management System Upgrade
• Alto Aviation HD sound system
• XM Weather
• API Winglets
• Canadian Rotorbust Mod CW


Additional Features, Equipment, & Entertainment:
3rd Crew Jump Seat
ARTEX C-406-2 406 MHz ELT w/ NAV Interface
Single-Point Refueling
Interior
Interior Last Refurbished:
2015
Major Refurbishment September 2015 @ StandardAero, Springfield, IL

Cabin LED Reading and Table Lights
Cabin LED Indirect Lighting System by Emteq
Refurbished 2015: Twelve (12) passenger fire-blocked interior featuring completely recovered window panels and shades, vestibule flooring, and new carpet crew jump seat, LH Flight Manual Storage, LH Aux Galley, RH Forward Galley/Bar/Galley Annex, fwd. & aft lavatories, fwd. crew storage closet and aft baggage compartment. The right-hand side full service Forward Galley is equipped to provide meal and beverage service to passengers and features storage for crystal and cutlery. The left-hand side galley annex holds full cabin entertainment controls and offers additional cabinet storage.

The main cabin features a forward-cabin 4-place club and an aft-cabin left-side 4-place conference group with Hi-Lo Table opposite a credenza with additional storage for wine/liquor. The forward-cabin 4-place club include stowable executive writing and dining tables between the opposing club chairs. The 4-place club and conference group chairs are upholstered in a high quality gray leather with quilted inserts and complemented with composite quartered ebony veneer cabinetry. The aft cabin is divided by a Canadian certified and monitored pocket door with an Aft LH berthable divan accompanied with a single club along with stowable table. The private aft Lav consist of a chemical toilet and modern style vessel sink, lighted mirror and cabinetry.
Entertainment
Gogo Biz® AVANCE L5 Hi-Speed Broadband
Thrane and Thrane Aviator 700D SBB
Alto audio system- custom tuned by Alto Aviation for optimal sound quality.
Collins Venue Cabin Management System consisting of:
Cabin Switching
Total of Nine (9) TC-6000 switch panels with headphone jacks @ seat locations:
(4) of the TC-6000 switches are in the FWD Cabin at each seat sideledge
(2) of the TC-6000 switch panels is installed in the left-hand cabin outboard conference table forward and aft facing seat positions, on the sideledge
(1) TC-6000 is installed at the aft cabin right-hand single club seat location in the Sideledge
(2) TC-6000 switch panels are installed in the forward and aft divan armrests
(1)10.6" HTSE Touchscreen monitor in the galley for full cabin control of CMS
(1) dual-disc Blu-Ray player
Airshow Interactive (ASXi) 2D and 3D world wide map displays
(2) Auxiliary HDMI input ports in the cabin.
The HDMI ports will allow users to plug in their carry-on personal device for HD media playback throughout the cabin audio and video systems.
(2) Rosen Aviation HD Widescreen monitors flush mounted on the FWD and AFT bulkead
(3) 10.6" HTSE plug-in touchscreen monitors and 3 receptacles within cabin for control and entertainment
(2) iPod Touch units supplied for additional cabin control
(5) each True Blue Power Dual USB charging outlets
Exterior
New Strip & Paint September 2015 @ StandardAero, Springfield, IL
Split base 2 tone gray Paint job- Jet Glo Gun Gray 07472 Lower Fuselage & Jet Glo Outer Space Gray 08489 Upper Fuselage with a dividing stripe of Jet Glo Black 01955. All trim of exits are outlined with PPG 10679 Titanium and Teflon Paint applied to all erosion areas behind slats.
Weights
Send a message to Bryan Dunn at Leading Edge Aviation Solutions, LLC