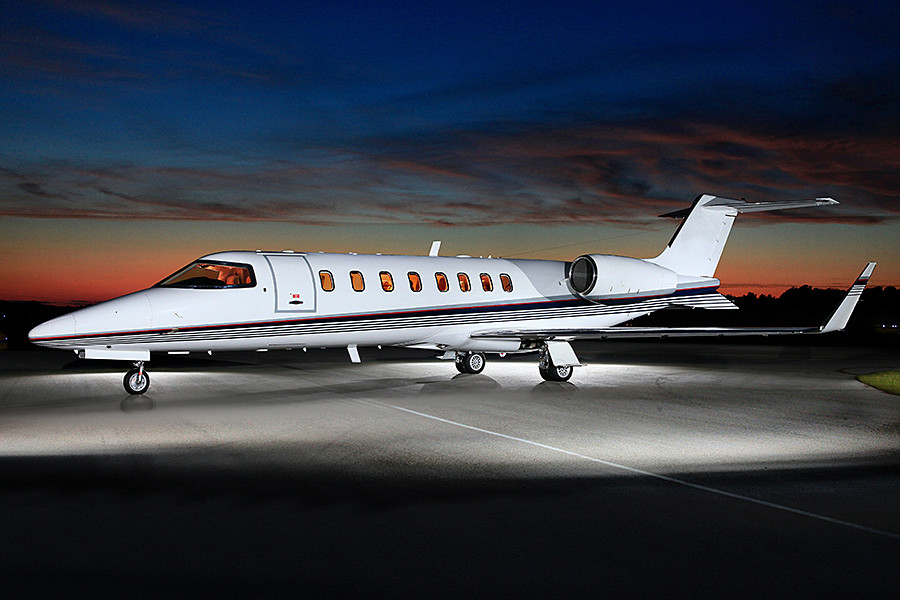 2000 Bombardier Learjet 45
Price: Make Offer
Serial Number:

45-0065

Tail Number:

N100KZ

Hours:

8,420

Cycles:

7,944
ADS-B Compliant
WAAS/LPV Compliant
RVSM Compliant
Increased Gross Weight Mod (21,500)
Dual Yoke Mounted CMA-1100 EFB's w/WSI
Airframe
8,420 Hours Total Time
7,944 Landings
Engines
JSSI Unscheduled Catastrophic Coverage

3,000 Hrs. MPI / 6,000 Hrs. TBO
Engine 1
Hours Since Overhaul:
3,594
Hours Since Hot Section:
621
Engine 2
Hours Since Overhaul:
3,594
Hours Since Hot Section:
621
Avionics
Navigation: Honeywell RNZ-851
Communications: Honeywell RCZ-851
High Frequency Communications: Bendix King KHF-950
Automatic Direction Finder: Honeywell RNZ-851
Electronic Flight Instrument System: DU-870
Flight Management System: Dual Universal UNS-1EW
Autopilot: Honeywell IC-600/GC-550
AHRS: LCR-100
Flight Director: Honeywell IC-600/GC-550
Altimeter: Honeywell AZ-850/DU-870
Distance Measuring Equipment: Honeywell RNZ-851
Global Positioning System: Universal UNS-1EW
Cockpit Voice Recorder: CVR120
Moving Map: on EFB
Enhanced Ground Proximity Warning System: Honeywell Mark V/RAAS w/Windshear
Air Data Computer: Honeywell AZ-850
WAAS: UNS-1EW LPV
SATCOM: Aircell ST-3500
Traffic Collision: TCAS 2000 w/Change 7.1
Transponder: Honeywell RCZ-851 Mode S
Multi-Function Display: Honeywell DU-870
Radar: Honeywell WU-650 w/RAAS
Emergency Locator Transmitter: Artex C406-2
Inspections
Inspection Type
Performed
Next Due
On CAMP On Chapter 4/5 Maintenance Plan Honeywell Avionics Protection Plan (HAPP) SB 45-27-47 Improved Flap Actuators SB 4556-3 Coup Rail Completed SB 45-11-4 Gross Weight Mod Complied With
Interior
Interior Last Refurbished:
2015
Double club configured interior completed in Tan with belted lav. Interior completed in 2015.
Exterior
Overall White with Blue, Grey and Red. Completed by Duncan Aviation LNK 2008.
Send a message to General Aviation Services, LLC