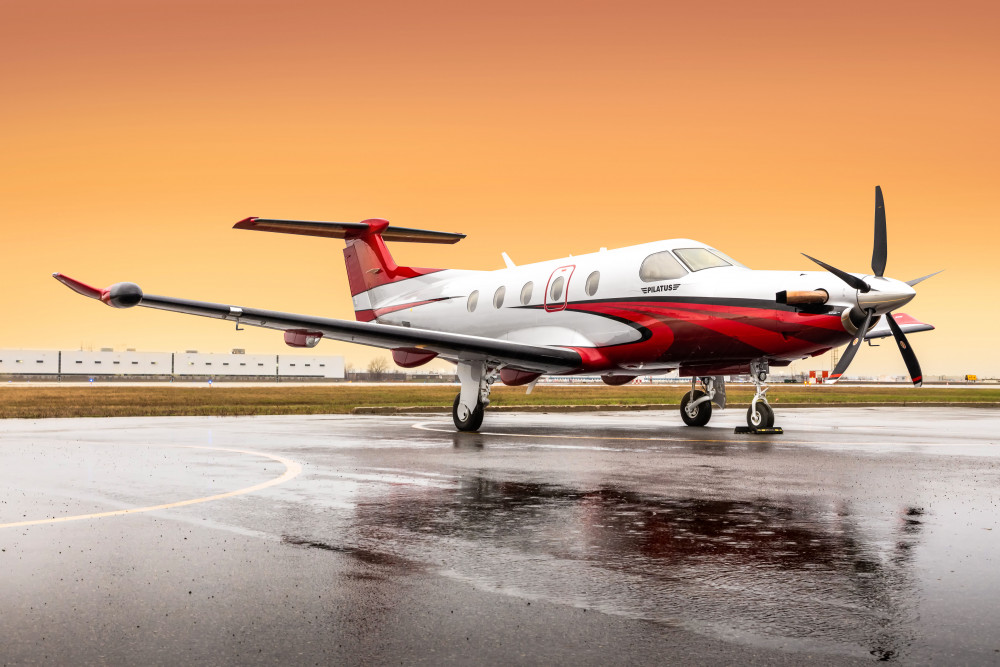 2018 Pilatus PC-12 NG
Price: Make Offer
Serial Number:

1809

Tail Number:

C-FING

Hours:

649

Cycles:

381
One owner Aircraft, with low Time, loads of optional equipment and premium Avionics package.
Offered by:

Skyservice Business Aviation, Inc.
Mississauga, ON
Airframe
Avionics
Honeywell Primus Apex Suite
Premium Avionics Package
Radar Altimeter
Dual Nav/Com
DME
ADF
Primary Flight Display (PFD) with ADI/HSI
Co-Pilot PFD with Co-Pilot Audio/Marker Panel
One Situational Awareness MFD (FMS, Wx Radar, Moving Map with overlays)
One Systems MFD (CAS messages, Gear, Trim & Flap indications, Fuel, ECS/Cabin Pressure Control, Electrical systems)
TAWS Class B & TCAS I (KMH 980)
SmartView Synthetic Vision System
Wireless Connected Flight Deck
Stormscope (WX500)
GPS WAAS/LPV Functionality
Second GPS
Honeywell Dual Chartlink
Dual Mode S Transponder (Diversity)
Satellite Graphical Weather
RVSM (Reduced Vertical Separation Minimum)
Iridium Antenna and Port
Coupled VNAV
ADS-B Out
RDR2000 Weather Radar
Props
Prop Information
Hartzell 5 Blade composite propeller (HC-E5A-3A)
Current Time: 649 hours
(TBO 4,000 hours)
Additional Equipment/Features
WARRANTY REMAINING

Coverage commenced mid-December 2018
Airframe 7 years, or 5,000 hours
Honeywell 3 yr Avionics Warranty good until December 17, 2021
Engine – 5 years or 2,500 hours (P&WC)

WEIGHTS

Max T/O Weight : 10,450 Lb.
Max Landing Weight : 9,921 Lb.
Empty Weight : 6 executive configuration: 6,729 Lb.
Fuel Capacity : 2,700 Lb.
Payload W/Full Fuel : 1,066 Lb.
Max Payload : 2,310 Lb.

CREW ACCESSORIES

Crew seats: 8-way adjustable, reclining with folding armrest, headrest, and 4-point torso restraint system
2 Cockpit speakers
2 Cockpit hand mics
Cockpit/Cabin bulkhead divider with curtain
Adjustable sun visors
AFM/En-route Charts storage
2 Map lights/2 Ceiling lights
Adjustable Panel/Circuit breaker flood lights
Emergency Gear extension
Parking Brake
Dual zone temp control (cockpit & cabin)

ADDITIONAL ITEMS

Canadian Certification Kit, Including Large Oxygen System
Propeller Feather Inhibit System
Supplemental Air Conditioning System
Cockpit Footwarmer
Pulsing Recognition Lights
Standby Magnetic Compass
Digital Clock/Stopwatch
406 MHz ELT with remote switch
Integrated Electronic Standby Instrument System (ESIS)
Dual Pitot Static system
Interior
Executive 6-seat Interior Includes Additional 4 Standard/Commuter Seats in Matching Leather
Oval cabin windows with pull-down shades
Aft baggage storage including cargo net
Independent reading lights at each seat
Forward Lavatory
Exterior
Titanium (Base) with Black, Red, Burgundy & White Custom Design
2 LED combined wingtip strobes/nav
2 LED Landing Lights/1 LED Taxi Light
1 Wing icing inspection Light (left side)
2 LED red flashing beacons
Send a message to Geoff Carlyle at Skyservice Business Aviation, Inc.