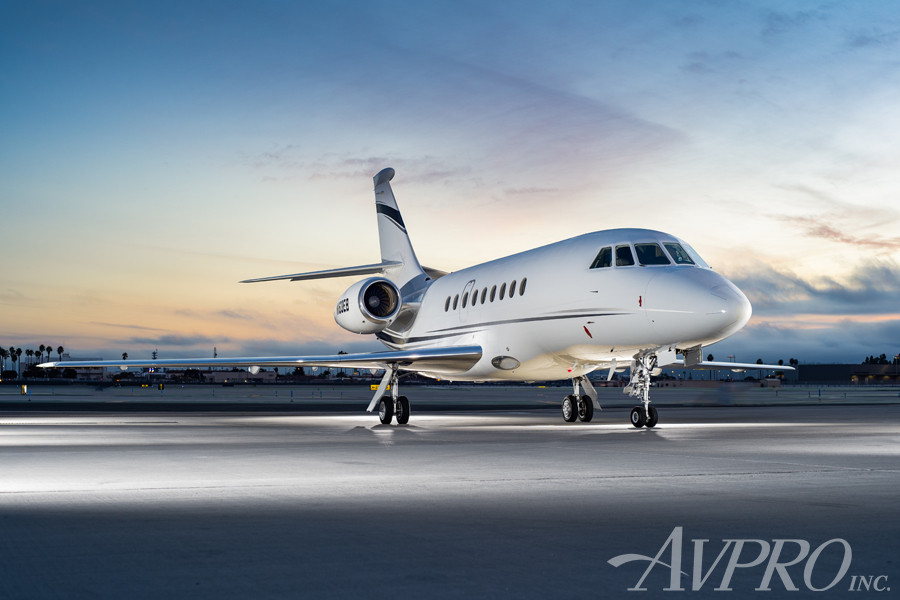 2004 Dassault Falcon 2000EX EASy
Price: Make Offer
Serial Number:

36

Tail Number:

N163EB

Hours:

3,403

Cycles:

1,507
U.S. Registered, Based in San Diego, CA
Ten (10) Passenger Configuration
Engines Enrolled on ESP Gold
APU Enrolled on Honeywell MSP
Wing Tank (Dry Bay) Modification c/w
Enrolled on HAAP
2016 Paint by Dassault, Little Rock
Offered by:

Annapolis, MD
Airframe
Engines
Pratt & Whitney 308C Turbofans
Engine Program Coverage:
ESP Gold
APU
Description:
Honeywell GTCP 36-150 (F2M)
Total Time Since New:
1,534
Avionics
Honeywell Primus Epic Enhanced Avionics System EASy II 3rd Cert
Honeywell Primus Epic 4 Liquid Crystal, Flat Panel Displays
Dual Honeywell Auto-Pilot w/Auto-Throttle Flight Control Systems
Triple Honeywell TR-866B VHF Comms
Dual Honeywell NV-875A Navs
Dual Honeywell DF-855 ADFs
Dual Honeywell DM-855 DMEs
Dual Honeywell AZ-200 Air Data System
Dual Honeywell XS-876 Mode S Transponders
Triple Honeywell FMS w/Dual GPS
Triple Honeywell IRS
Standby Magnetic Compass
Dual Collins HF-9000 HFs
Triple Honeywell AV-900 FlightDeck w/Radio & Intercom
Two (2) Channel SELCAL (HF 1 & 2)
Dual Honeywell RT-300 Radio Altimeter
Honeywell Primus 880 Color Weather Radar
Honeywell GPWS
Honeywell TCAS 2000 w/Change 7.1
Honeywell Cockpit Voice Recorder
Honeywell Digital Flight Data Recorder
Honeywell ELT ADT-406
Honeywell Data Loader
Navigation and Compliance
ADS-B Out (December 2016 by Dassault, Little Rock)
Honeywell TCAS 2000 w/Change 7.1
RVSM Compliant
Inspections
Inspection Type
Performed
Next Due
Additional Equipment/Features
Features/Options
Dual Honeywell Crew Alerting & Aural Warning Systems
Honeywell EASy CMC-901 Central Maintenance Computer
Honeywell EASy Communications Management Function
Honeywell EASy Electronic Jeppesen Charts
Honeywell EASy Video Interface with Cockpit View Camera
Securaplane Aircraft Security System w/Airborne Video Camera
AutoThrottle System
Honeywell Electronic Checklist
BF Goodrich Ice Detection
3rd Flight Deck Seat
Meggitt Integrated Electronic Standby Indicator
Miltope TP-4840 Flight Deck Printer
Public Address/Chime System
KGS Electronics Auxiliary 115V AC 60 Hz Power
115 Cubic Foot Oxygen Bottle
First Aid O2 System w/Mask & Outlet
Pocket Sliding Door (Galley to Passenger Cabin)
LED Lighting
Vola Faucets
Enflite High Temperature Oven
TIA Wavejet Microwave
TIA Coffee Maker
Interior
Interior Last Refurbished:
2011
Beautifully appointed ten (10) passenger interior offering a forward fully equipped galley followed by a four (4) place club and an aft four (4) place conference group opposite a two (2) place club. Certified Jump Seat. All passenger seats feature base tracking, side tracking, swivel, flat recline, adjustable breadboard type headrest, retractable arm rests, shoulder harnesses and fire blocking foam.

Cabin finishes include High gloss finished Australian Walnut cabinetry veneer, polished Chrome colored plating, Seagull color Edelman Krypton leather upholstered seating on all chairs complimented by designer carpeting showcasing a dark gray background with cream colored accent striping. Newer LED lighting throughout the cabin and Vola faucets.
Entertainment
Airshow System:
Airshow 4000
Airshow 4000
Honeywell MH Entertainment/Environmental Control System w/Select 200C & PSU 9400 Remote
Eight (8) Speakers
Forward & AFT 19" Wide LCD HD Color Monitors (New in 2011)
DVD/CD Player w/Integrated Dedicated iPad
iPad/iPhone/iPod Interfaces for Portable Devices
Dual Flight Deck Bose Active Noise Suppression Headsets
Exterior
Stripe Colors:
Black & Gray Accent Striping
(December 2016 Paint by Dassault, Little Rock)
Overall White with Black & Gray Accent Striping.
Weights
Max Takeoff Weight:
42,200.00
Basic Operating Weight:
24,414.00
Send a message to Chris Ellis at Avpro, Inc.