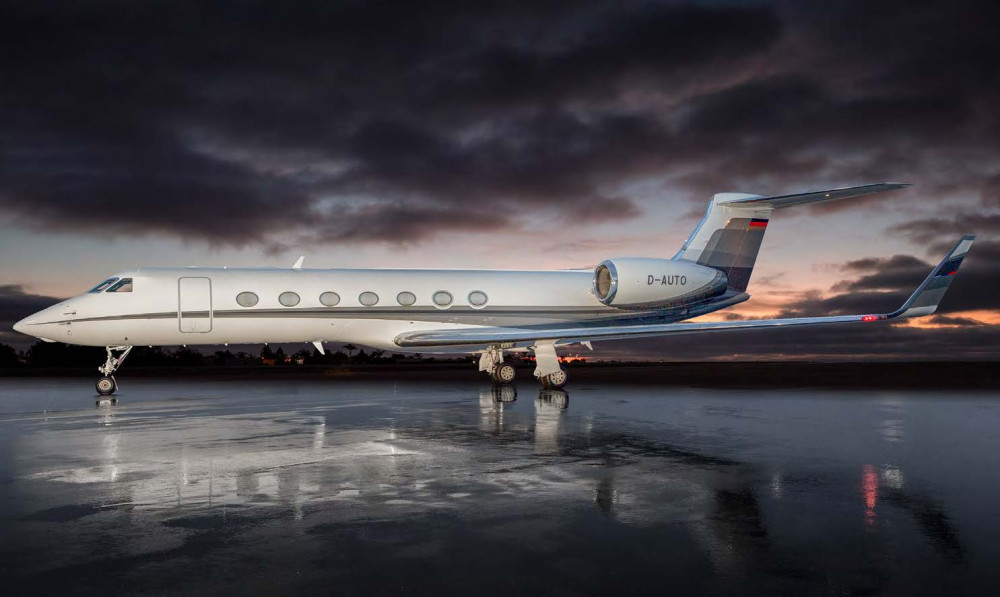 2008 Gulfstream G550
Price: Make Offer
Serial Number:

5171

Tail Number:

D-AUTO

Hours:

6,323

Cycles:

1,744
Exceptional One Owner Pedigree – Top Global Brand
New Paint January 2020 by Duncan-Battle Creek
12C Inspection c/w January 2020 by Duncan-Battle Creek
CB-190 MAUS Scan c/w June 2020 by Gulfstream-St. Louis
Enrolled on Engine, APU, Avionics & Mechanical Programs
Enhanced Navigation Package (CPDLC-FANS 1/A, WAAS-LPV)
ADS-B Out V2 / RAAS / TCAS 7.1
Synthetic Vision Primary Flight Display (SVPFD) 2.0
16 Pax with Forward Crew Rest, Aft Galley Configuration
Enhanced Cabin Soundproofing
High ASC & CB Compliance
Offered by:

Annapolis, MD
Airframe
Engines
Rolls-Royce BR700-710C4-11
Engine Program Coverage:
Rolls Royce Corporate Care (RRCC)
APU
Description:
Honeywell RE220
APU Program Coverage:
MSP Gold
Total Time Since New:
2,962
Avionics
Gulfstream PlaneView Flight Deck
Honeywell Primus Epic System with Dual Auto-Throttle
Triple Honeywell MC-850 Multifunction Control Display Units
Four Honeywell DU-1310 Flat Panel Display Units
Honeywell Primus Epic Dual Fail Operational GP-500 Flight Guidance System
Head Up Display (HUD) with CAT II cert
Enhanced Vision System (EVS)
Triple Honeywell MAU-913 Modular Avionics Units
Honeywell MT-860 Third Navigation/Communication Cabinet
Dual Honeywell MRC-855A Modular Radio Cabinets
Honeywell Primus II Epic Integrated Radio System Comms/Navs/ADF/DME Systems
Enhanced Mode S Transponders
Triple Honeywell AV-900 Audio Panels w/SELCAL
Triple Honeywell AZ-200 Air Data Modules
Honeywell WU-880 Weather Radar Receiver/Transmitter Antenna
Dual Honeywell WC-884 Weather Radar Controllers
LSZ-860 Lightning Sensor System
Two Honeywell DC-884 Display Controllers
Honeywell DP-884 Display Brightness Panel
Dual Honeywell RT-300 Radio Altimeters
Honeywell TCAS 2000 w/Change 7.1
Dual Honeywell Enhanced GPWS w/Windshear Detection
Honeywell Primus Epic Triple Flight Management System with 7.1 Software
Honeywell Primus Epic Dual 24 Channel GPS
Triple Honeywell IR-500 LASEREF V Micro IRU's
L3 Flight Data Recorder
L3 Cockpit Voice Recorder
406 MHz ELT
Honeywell MSP Avionics Valid to March 31, 2022
Navigation and Compliance
Noteworthy ASC Compliance
ASC-061B Synthetic Vision-Primary Flight Display (SV-PFD) Installation
ASC-063 MZFW Increase to 53,000 lbs under EASA
ASC-065A Runway Awareness Advisory System (RAAS)
ASC-084 Enhanced Navigation (incl. CPDLC-FANS 1/A, WAAS-LPV)
ASC-103 TCAS 7.1 Installation
ASC-105 ADS-B Out Installation
ASC-912C PlaneView Master Operating Software Update
Inspections
Inspection Type
Performed
Next Due
Additional Equipment/Features
Forward Crew Rest
Synthetic Vision-Primary Flight Display (SV-PFD) 2.0
Securaplane System (cell phone warning & wheel well sensor upgrade)
Electric Window Shades (installed by STC)
QAR for FOQA
External Camera System
Emergency Vision Assurance System (EVAS)
Two (2) Therapeutic O2 Outlets
TIA Automatic Coffee Maker
BE Aerospace Espresso Machine
BE Aerospace High Temp Oven
Sharp Microwave Oven
Special Lavatory Design for Enhanced Space
Interior
Elegantly appointed sixteen (16) passenger interior featuring a forward Crew Rest and Aft Galley.

The interior is configured with a four-place club arrangement in the forward cabin, a two-place club opposite a four-place divan in the mid cabin zone, followed by a four-place conference/dining group opposite a two-place club in the aft cabin. Additional amenities include enhanced sound proofing, as well as a divider with pocket door for additional privacy.

The cabin is completed in luxurious grey tones with soft Aeristo grey and black leather seats accented by grey tweed fabric lower sidewalls with a Cortina Leather interwoven accent stripe and complementing carpet throughout, with grey fabric upper sidewalls and faux leather headliner. The cabinetry is finished in rich Walnut high-gloss woodwork in nicely crafted horizontal wood grain lines throughout all cabinets and doors and complimented by tasteful matte nickel colored plating.

The spacious aft galley is fully equipped to include ice/cold chests, ample storage, Burbank Limestone grey composite countertops, automatic coffee maker, espresso machine, high temperature oven and a microwave oven. A full-size curtain separates galley from the cabin for improved privacy and a quieter environment.

Forward and aft lavatories offer convenience for both passengers and crew. The aft lav is fully enclosed and includes a mirrored entrance door and large closet for storage and hanging clothes. The closet has a special design with a curved left side for additional storage, and the lav seat is relocated to the right aft bulkhead wall to allow for the maximum space to dress and move around. The large baggage compartment is accessible in-flight through a door in the back of the lav.
Entertainment
Airshow System:
Airshow 4000
High Speed Internet:
Honeywell HD-710 Satcom with Swift Broadband
In-Flight Phone:
Aircell Axxess II Iridium Phone System
Airshow 4000
Eleven (11) Personal LCD Displays - 7" Widescreen
Two (2) DVD Players
One (1) CD Player
Exterior
Base Paint Colors:
Matterhorn White
Stripe Colors:
North Sea Gray and Gear Gray
Exterior 2020 Paint by Duncan Aviation, Battle Creek
Transferrable Three (3) Year Paint Warranty

Overall Jet Glo Matterhorn White with a North Sea Gray and Gear Gray stripe design, accents in Gloss Blue, Axis Blue and Gloss Red (former BMW M Colors).
Weights
Max Zero Fuel Weight:
53,000.00
Send a message to Mike Caruso at Avpro, Inc.