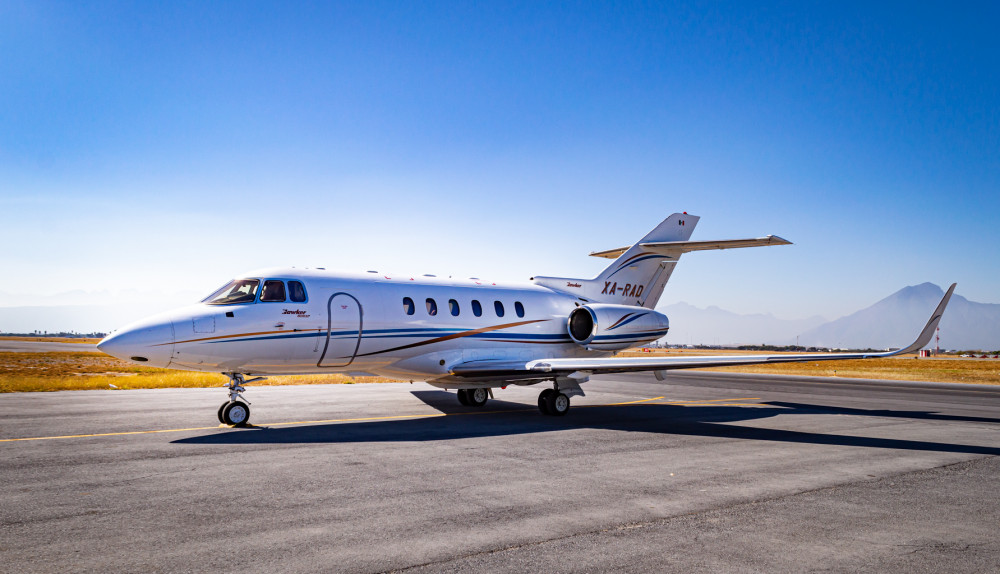 2001 Hawker 800XP
Price: Make Offer
Serial Number:

258527

Tail Number:

XA-RAD

Hours:

4,955

Cycles:

3,041
Engines and APU on MSP Gold
Programs
Global AFIS
Aviation Partners Blended Winglets
RVSM Certified
Offered by:

Kansas, MO
Airframe
Entry Into Service Date:
December, 2001
Home Base:
Monterrey, Mexico
Maintenance Tracking:
CAMP
Aviation Partners Blended Winglets
PELS Smoke Hoods
Long Range O2
Logo Lights
Engines
Engine Program Coverage:
MSP Gold
APU
Description:
Garrett GTCP 36-150 (W)
APU Program Coverage:
MSP Gold
Total Time Since New:
4,265
Avionics
Honeywell Primus
F/DIR: Dual Honeywell DFZ-800
COMMS: Dual Honeywell RCZ-851E
NAVS: Dual Honeywell RNZ-850
ADF: Dual Honeywell RNZ-850
DME: Dual Honeywell RNZ-850
XPNDR: Dual Honeywell RCZ-850 Mode S
Audio Panel: Dual AV-850
A/P: Dual Honeywell DFZ-800
Honeywell EGPWS w/ Windshear
HF COMM: Dual KHF-950 w/ Coltech SELCAL
TCAS: Honeywell TCAS-2000 w/ Change 7
RAD ALT: Honeywell AA 300
CVR: Universal UNC-30B
FMS: Dual Honeywell FMZ-2000 w/ Dual GPS
AHRS: Triple Honeywell AHZ-600
ELT: Artex 406
Radar: Honeywell Primus 880 Color Radar
Honeywell LASEREF III
Honeywell LSZ 860 Lightning Sensor
Global AFIS
8.33 KHz w/ FM Immunity
Navigation and Compliance
Interior
Four Place Club Seating followed by RH Three Place Divan Opposite Forward-Facing Seat;White custom designed teal carpeting. Plating is Polished Bright Almond Gold with headliner and window panels
completed in Tapis Ultra Suede.
Aft Belted Lav
Galley w/ Microwave
Also featured is Airshow
400, Dual 15" Monitors, CD and DVD
Players.
Entertainment
Airshow System:
Airshow 400 w/ Cabin Briefer
DVD/CD Players:
CD and DVD Players
In-Flight Phone:
Aircell ST-3100
Exterior
Base Paint Colors:
Overall White
Stripe Colors:
Gold Metallic and Light Blue
Aviation Partners Winglets
Send a message to Gabriela Perez de Leon Graciano at JetHQ