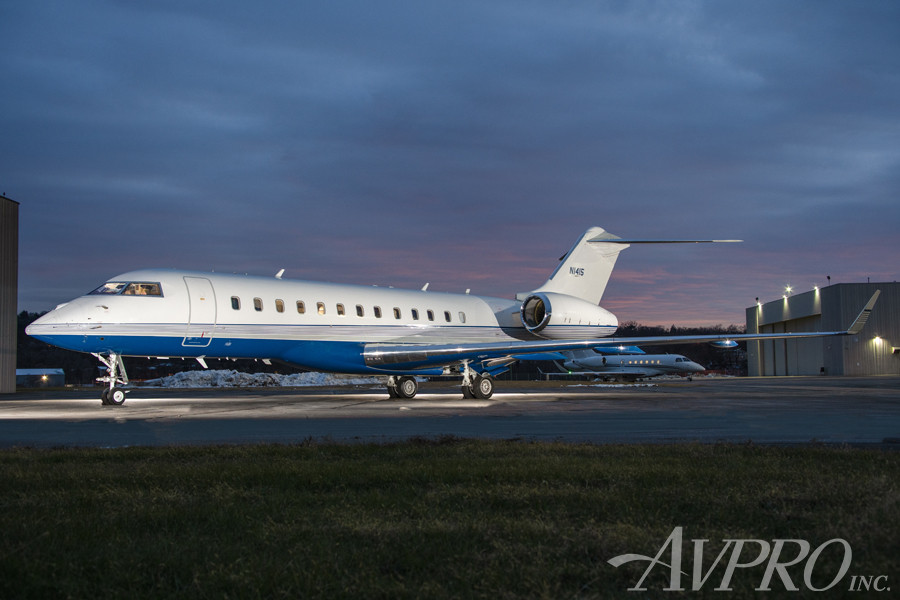 2007 Bombardier Global Express XRS
Price: $11,995,000
Serial Number:

9202

Tail Number:

N1415

Hours:

5,006

Cycles:

1,889
N Registered & Based at KSTP
Engines & APU Enrolled on JSSI
Airframe Enrolled on Smart Parts
FANS 1/A, RNP-4, WAAS/LPV and ADSB-OUT
RAAS Equipped
HUD / EVS Equipped
KA Band Internet
13 Passenger Interior – Standard Layout
Fresh Pre-Purchase Equivalent Inspection – West Star, Grand Junction
Offered by:

Annapolis, MD
Airframe
Program Coverage:
Bombardier SmartParts
Engines
Rolls Royce Derby PLC BR 700-710A2-20
Engine Program Coverage:
JSSI
APU
Description:
Honeywell RE220(GX)
APU Program Coverage:
JSSI
Total Time Since New:
3,740
Avionics
Triple IC‐800 Integrated Avionics Computers (IAC) Batch 3 Compliant
Thales/Sextant Head‐Up Flight Display System (HUD)
Thales Enhanced Vision System (EVS)
Dual Honeywell RNZ‐851 Integrated VHF Nav Radios (FM Immunity)
Triple Honeywell Primus II Nav/Com VHF w/ 8.33 Spacing
Dual Honeywell HF‐9031 w/ Selcal
Dual Honeywell RNZ‐833K Transponders w/ ADS‐B (OUT)
Triple Honeywell NZ‐2000 FMS ver. 6.1
Dual Honeywell HG2021GD04 GPS Sensor Units (SBAS/LPV)
Triple Honeywell Laseref IV IRS Units
Integrated Electronic Standby Indicator System
Triple Honeywell AZ‐950 Micro Air Data Computers
Triple Honeywell ACARS Airborne Data Link System (FANS 1/A)
Honeywell Mark V EGPWS
Dual Collins ALT‐4000 Radio Altimeters
Honeywell Primus 880 Color Radar
Honeywell LSZ‐860 Lightning Sensor System
Honeywell TCAS 2000 System w/ 7.1 Upgrade
CAIMS (‐801) ver. 8.0
Honeywell DCVR (FANS Compliant)
Honeywell DFDR
Flight Compartment Printer
Artex 406 ELT w/ Nav Interface
Navigation and Compliance
FANS 1/A Batch 3 Compliant
SBS/LPV
RAAS
WAAS/LPV/RNP4
TCAS 7.1
Additional Equipment/Features
Electronic Flight Bags
Crewmember PBE
Electronic Pilot Checklist
Logo and Pulse Lights
Manual Window Shades
Lo Presti Boom Beam LED Landing Lights (STC ST02893AT)
Vacuum Lavatory System
TIA Oven
TIA Microwave
Coffee Brewer
Nespresso Coffee Maker
Cabin and Cockpit Printers
Interior
Thirteen (13) Passenger Configuration Featuring A Forward Fully Equipped Galley And A Left-Hand Crew Rest Area. Entering The Main Cabin Through A Pocket Door Is A Four (4) Place Club Seating Area Followed By A Four (4) Place Dining/Conference Seating Arrangement On The Left Hand Side That Opposes A Right Hand Single (1) Seat Work Station. The Aft Cabin Seating Includes A Left Hand Three (3) Place 16G Berthing Divan Certified For Two (2) Passengers During Take‐Off And Landing That Opposes Another Right Hand Three (3) Place Divan Certified For Two (2) Passengers Followed By An Aft Lavatory And Baggage Compartment. The Cabin Single Seats Are Covered In Tan/Beige Leather And Both Divans Are Covered In Fabric. All Wood Veneer Is Medium Dark Grained Birds' Eye With A High Gloss Finish And Plating Is Antique Bronze. All Carpet Is Tan/Brown In Color, 100% Wool Patterned. Cabin Upper Sidewalls, PSU's And Headliner Are Covered With Microfiber/Suede Material And Lower Sidewalls Are Covered In Tan/Beige Leather.
Entertainment
Honeywell Jetwave KA Band Satellite Data System
Satcom Direct Router
Rockwell Collins Iridium phone system
Wireless LAN
Rockwell Collins CES‐5000 w/ ver. 10 Upgrade
Rockwell Collins Airshow System
Central Cabin Entertainment Control Cabinet
HDMI Port (Workstation)
Three (3) 24" HD LCD Monitors in Bulkheads
One (1) 19" Widescreen HD LCD Monitor on Credenza
One (1) 10.6" Galley Touchscreen
Dual 10.6" Personal Touchscreens
Five (5) iPad Touch Controls
Alto Speaker System
Exterior
Base Paint Colors:
Overall Matterhorn White base
Stripe Colors:
Bristol Blue and Gamma Grey Accent Stripping
Send a message to Anderson Bell at Avpro, Inc.