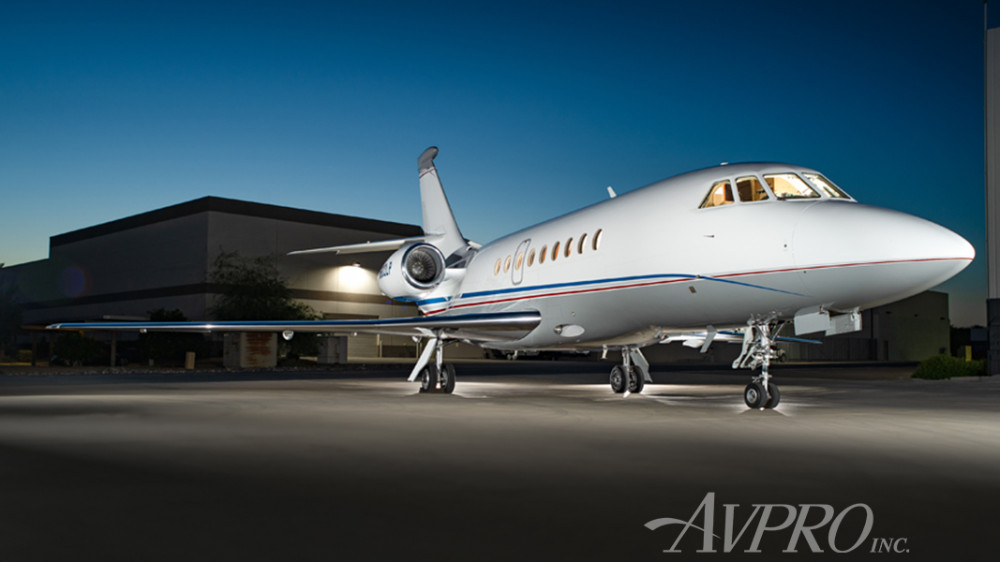 1997 Dassault Falcon 2000
Price: Call for Price
Serial Number:

0036

Tail Number:

N602LP

Hours:

6,419

Cycles:

4,349
Fresh 4C & Gear Overhaul by West Star - Oct. 2020
Low Airframe Hours
US Corporate Pedigree - Based In Scottsdale, AZ
Preferred 10 Passenger Interior Configuration
New Paint Dec. 2018 by Duncan Aviation
WAAS/LPV Approach Capable
ADS-B out
Aircell ATG-5000 GoGo WiFi w/ Talk and Text
Engines on CSP Gold & APU on MSP Gold
Offered by:

Annapolis, Maryland
Airframe
Maintenance Tracking:
CAMP
Sunscreens For Front & Side Cockpit Windows
2 Pilot O2 Masks w/ Separate Smoke Goggles
2 Rechargeable Flight Deck Flashlights
Auxiliary 115V AC 60 Hz Power
2 Winslow 9 Man Life rafts
Enlarged O2 Bottle (115 Cu. Ft.)
Therapeutic Portable O2
Main Battery Charging w/ GPU
Dual navigation Wing Tip Position Lights
Pylon Lights
Remote cabin Temp Control
Manual Window Shades
Telescopic Tow bar
Crash Axe w/ Storage
Engines
Engine Program Coverage:
CSP Gold
APU
Description:
Honeywell GTCP36-150 (F2M)
APU Program Coverage:
MSP Gold
Total Time Since New:
4,183
Avionics
Collins Pro Line 4 Avionics Suite
Collins EFD 4077 4 Tube EFIS
Collins FCC 4002 Autopilot
Dual Collins VHF 422C VHF COMMs w/ 8.33 Spacing
Dual Collins VIR 432 NAVs w/ FM Immunity
Dual Collins ADF-462 ADF's
Dual Collins DME 442 DME's
Dual Collins TDR 04D Mode S XPNDRs w/ Enhanced Surveillance
Dual Collins ADvc 850C ADC's
Dual Collins ALt 55 B Radio Altimeters
Cillins TCAS 94 TTR 920 TCAS II w/ Change 7
Honeywell Mark V EGPWS w/ Windshear
Dual King KHF 950 HF's w/ Coltech SELCAL
Collins Weather Radar
XM WEather External Antenna w/ Flight Deck Connectoor (for portable device) new 2019
Collins RTU-4020 RTU's
Collins Maintenance Diagnostic Computer
Dual Universal UNS-1EW SBAS-FMS w/ Dual GPS For WAAS-LPV Approach New 2018
Dual Honeywell LASEREF III Long Range Navs
Honeywell SS CVR 980=6022-011 CVR
Allied Signal 980-4700-017 FDR
Socata ELT-97A 406Mhz ELT
Smith Standby Magnetic Compass
Navigation and Compliance
B-RNAV (RNP 5) Equipped:
Yes
Inspections
Inspection Type
Performed
Next Due
1B (1600 Hrs)
Performed:
November 2019 @ 6,085 Hours
2B (3200 Hrs)
Performed:
November 2019 @ 6,085 Hours
3B (4800 Hrs)
Performed:
June 2013 @ 4,483 Hours
Interior
Carpet & Overhaul of Crew Seats (Leather, Cushions, Headrests) in 2018 New Leather, Sidewalls and metal Plating in 2009
Beautiful 10 Passenger Interior Featuring a 4 Place Club Arrangement in The Fwd Cabin
Followed By a 4 Place Conference Dining / Conference Group w/ Manual Table Opposite a 2 Place Club in the Aft Cabin
Completed In Earth Tones w/ Soft Caramel Colored Leather Seats Accented by Complementary Lower Sidewalls and a Patterned Carpet Throughout, As Well As Cream Ultrasuede Headliner and Upper Sidewalls.
Cabinetry is Rich Medium Burl High Gloss Woodwork
Matte Nickel Plating
Fwd 46" galley w/Corian Countertops w/ Ice/Cold Chests, Storage, High Temp Oven, Coffee Maker.
Full Size Pocket Door Separates The Cabin
Private Aft lav w/ Electric Flushing Toilet
Spacious Baggage Compartment w/ Fold Down Shelf Accessible In Flight Through the Aft Lav
3RD Flight Deck seat Also Has Storage Drawer
LH Crew Closet
Entertainment
Display TV Monitors:
Dual LCD Monitors FWD 17" & AFT 20" , 4 Rosen 8.4" Side Ledge Monitors
Cabin Management System:
Audio International Cabin Management System
High Speed Internet:
Aircell GoGo ATG-5000 w/Talk and Text
DVD/CD Players:
Dual DVD Players
In-Flight Phone:
2 Wired SATCOM Handsets
Exterior
Base Paint Colors:
Matterhorn White Over Medium Gray
Stripe Colors:
Deep Red, Nordic Gray, Weston Blue
New Paint December 2018 by Duncan Aviation
Weights
Max Takeoff Weight:
36,500.00
Max Landing Weight:
34,500.00
Max Zero Fuel Weight:
28,600.00
Basic Operating Weight:
22,764.00
Send a message to Mike Caruso at Avpro, Inc.