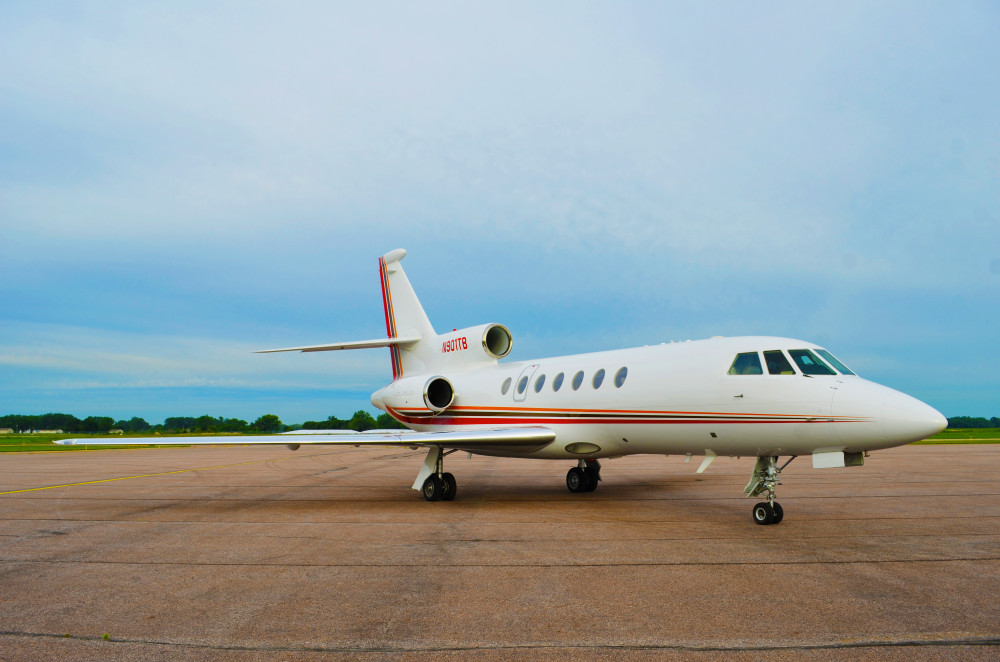 1999 Dassault Falcon 50EX
Price: $2,695,000
Serial Number:

0285

Tail Number:

N901TB

Hours:

7,775

Cycles:

6,064
Engines and APU enrolled on MSP Gold
Avionics enrolled on CASP
ADS-B Out Version 2 / TCAS 7.1
Offered by:

Guilford, CT
Airframe
Maintenance Tracking:
CAMP
Hours as of August 17, 2020
Emergency Vision Assurance System
EROS Quick Donning O2 masks15 VAC Electrical outlets
115 VAC Electrical Outlets
Engines
Honeywell TFE731-40-1C
N1DEEC
Engine Program Coverage:
MSP Gold
APU
APU Program Coverage:
MSP Gold
Total Time Since New:
3,831
Avionics
Maintenance Program:
Collins CASP
Collins Pro Line 4 Integrated Avionics System
ADC: Dual Collins ADC-850
AHRS: Collins AHS-3000
ADF: Dual Collins ADF-462
A/P: Collins APS-4000
COMMS: Triple Collins VHF-422C
CVR: Honeywell SSCVR
DME: Dual Collins DME-442
EFIS: Collins EFIS-4000 w/ Checklist Flight Instrument System
ELT: Socata (97-406)
FDR: Honeywell SSFDR
FMS: Triple Collins FMS-6100
GPS: Dual Collins GPS-4000S w/ WAAS
HF COMMs: Dual Collins HF-9000 w/ Coltech 5 Channel SELCAL
INS: Dual Honeywell LASEREF III
NAVs: Dual Collins VIR-432 VOR/ILS Marker Beacon System
Radar Altimeter: Collins ALT-55B
Secondary Flight Instrument: Meggitt
TAWS: Honeywell Mark V EGPWS
TCAS: Collins TCAS-94 TCAS II w/ Change 7.1
XPNDR: Dual Collins TDR-94D w/ ADS-Out V2
Weather Radar: Collins TWR-850
Emergency Vison System
Navigation and Compliance
B-RNAV (RNP 5) Equipped:
Yes
Inspections
Inspection Type
Performed
Next Due
1C/72 Mo.
Performed:
December 2017 @ 7,196 Hours
2C/144 Mo.
Performed:
December 2011 @ 5,257 Hours
3C/216 Mo.
Performed:
December 2017 @ 7,196 Hours
Interior
Interior Last Refurbished:
2010
(Interior Refurbished by Duncan Aviation, Lincoln, NE in February 2010)
Eight passenger interior with a forward and aft 4-place club seating arrangement. Forward galley w/ coffee maker, High temp oven, aft lavatory, and crew only
Jumpseat complete this interior.
LED Cabin Lighting
Entertainment
Display TV Monitors:
Forward and Aft 15" Rosen LCD Monitor
Airshow System:
Rosen View VX Info / Map
DVD/CD Players:
Rosen DVD/CD Player
In-Flight Phone:
Magnastar C2000 Phone System
Exterior
Base Paint Colors:
Overall Vestal White
Stripe Colors:
Sunfast Red, Omaha Orange, and Anchor Bronze Striping
Repainted December 2014 by West Star Aviation, East Alton, IL
Weights
Max Takeoff Weight:
40,780.00
Max Landing Weight:
35,715.00
Max Zero Fuel Weight:
25,570.00
Usable Fuel Capacity:
15,457.00
Send a message to Samantha Langen at Guardian Jet, LLC