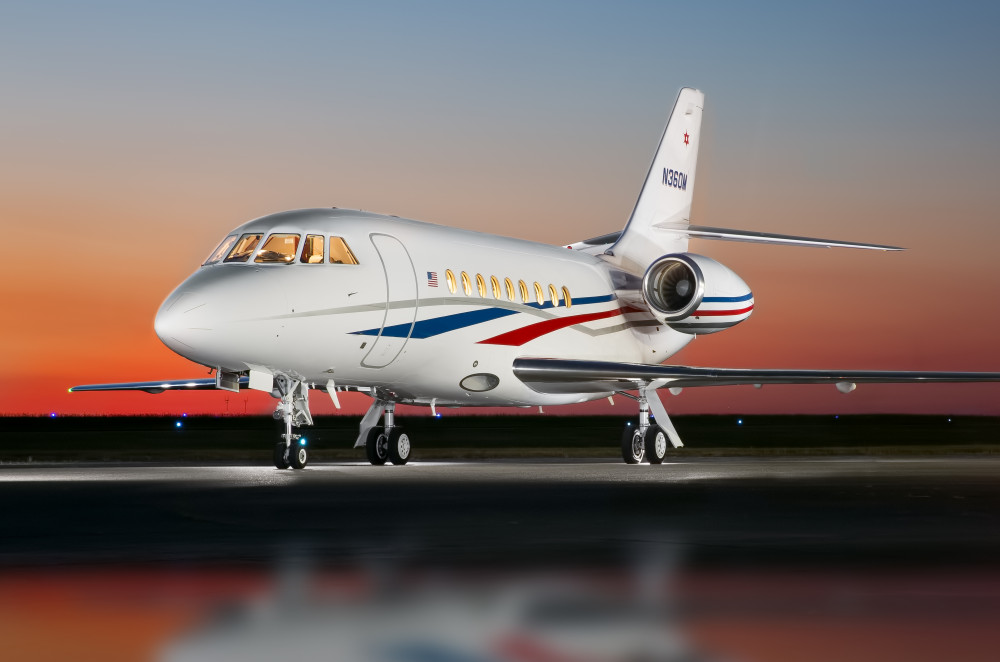 2005 Dassault Falcon 2000EX EASy II
Price: Make Offer
Serial Number:

0068

Tail Number:

N360M

Hours:

5,453

Cycles:

4,342
EASy II Avionics w/cert 3 software
GoGo Biz ATG 5000 HSD / WiFi
Engines on ESP Gold
Avionics on Honeywell MSP (Previously HAPP)
TCAS 7.1
ADS-B Out
Two Fortune 200 Owner Since New
Offered by:

Guilford, CT
Airframe
Maintenance Tracking:
CAMP
OCIP Maintenance program
Dry bay Mod
Engines
Engine Program Coverage:
ESP Gold
APU
Description:
Honeywell GTCP36-150 (F2M)
Total Time Since New:
3,123
Total Cycles Since New:
6,806
Avionics
Avionics on Honeywell MSP (Previously HAPP)
Honeywell EASy II Avionics With Cert. 3 Software (Load. 16.4)
Air Data Modules: Dual Honeywell AZ-200 Micro Air Data Modules
Audio Control Panels: Dual Honeywell AV-900 Flight Deck Audio Panels + Third Crew Audio Panel
ADF: Dual DF-855 Modules
Auto Throttle: Honeywell EASy
CVR: Honeywell AR-30 SSCVR (30 Minutes)
VHF COMMs: Triple Honeywell TR-866B
DME: Dual Honeywell DM-855
Jeppeson Electronic Charts
EFIS: Four Honeywell DU-1310 Display Units
ELT: 3 Frequency 406 tied to FMS
Flight Control: Honeyell EASy
FDR: Honeywell AR-256
FMS: Triple Honeywell
GPS: Dual Honeywell
HF COMMs: Dual Collins HF-9034A
LR NAV: Triple Honeywell LASEREF V MIRU
NAVs: Dual Honeywell NV-875A
Radio Altimeter: F
Dual Honeywell RT-300
Meggitt Secondary Flight Display
TCAS: Honeywell RT-951 TCAS-2000 w/ Change 7.1
XPNDR: Dual Honeywell XS-858B Mode S w/ Enhanced light ID
Weather Radar: Honeywell Primus WU-880
Navigation and Compliance
B-RNAV (RNP 5) Equipped:
Yes
Inspections
Inspection Type
Performed
Next Due
1C
Performed:
October 2017 @ 4,588 Hours
2C
Performed:
October 2017 @ 4,588 Hours
Gear
Performed:
October 2017 @ 4,588 Hours
Next Due:
October 2029 @ 0 Hours
Interior
Interior Last Refurbished:
2005
(Original Interior – by Dassault Little Rock, AR)
This beautiful 10 passenger executive interior features a forward 4-Place club and an aft 4-Place conference table opposite a 2-Place club. The cockpit jump seat is certified for takeoff and landing for crew members. The forward galley includes a Tia Hi-Temp oven, Tia Wavejet microwave, storage trays, drink storage drawer, various storage drawers, trash receptacle and removable cutting board. Passengers have inflight access to the large aft baggage compartment beyond the aft lavatory.
Forward Cabin
Entertainment
Display TV Monitors:
(2) 15" Forward/Aft Bulkhead Monitor
Airshow System:
Airshow 400
Cabin Management System:
Audio International Cabin Management System
High Speed Internet:
GoGo Biz ATG 5000 High Speed Data
DVD/CD Players:
DVD Player
In-Flight Phone:
Aircell 2-Channel Flight Phone with 1 wired cockpit handset, and 1 wireless cabin handset.
Exterior
Base Paint Colors:
Snow White
Stripe Colors:
Silver, Blue and Red Stripes
Weights
Max Takeoff Weight:
42,200.00
Max Landing Weight:
39,300.00
Max Zero Fuel Weight:
29,700.00
Basic Operating Weight:
24,805.00
Send a message to Patrick Lynch at Guardian Jet, LLC