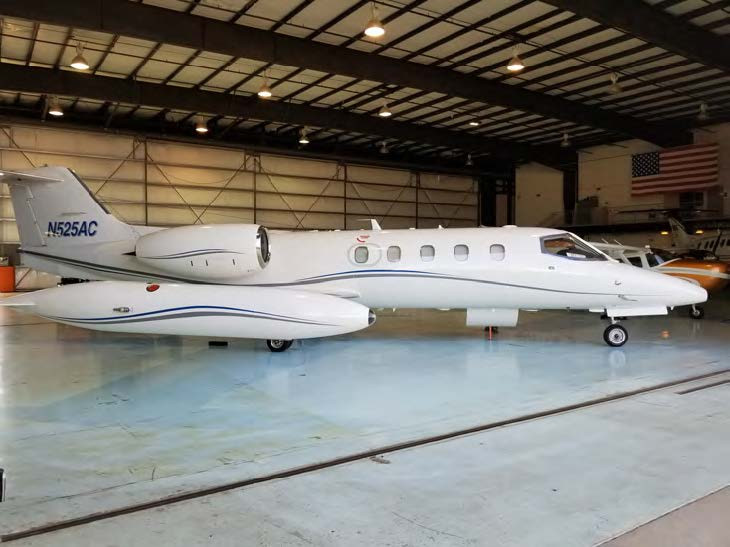 1986 Bombardier Learjet 36A
Price: $795,900
Serial Number:

0057

Tail Number:

N525AC

Hours:

15,331

Cycles:

8,616
36" Cargo Door
Drag Chute
Offered by:

Houston, TEXAS
Airframe
36" Cargo Door
Drag Chute
Double Wide Pedestal
Dual Sealed Lead Acid Batteries
Lifeport Medical Stretcher
Lifejackets
Engines
Engine 1
Hours Since Overhaul:
2,942
Cycles Since Overhaul:
1,909
Engine 2
Hours Since Overhaul:
2,618
Cycles Since Overhaul:
1,179
Avionics
• Pilots Collins FD FIS 84/EHSI-74 integrated with
J.E.T. F-530 AFCS and dual Yaw dampers
• Co-pilot Flight indicator FIS-84 with EHSI-74
• Collins Dual VHF-22A Communication Transceivers (8.33
spacing)
• Collins Dual VIR 32 Navigation Receivers
• Collins ADF-60A
• Collins Dual TDR-94D ADS-B Out Transponders
• Collins Dual DME-42
• King KHF-950 HF Com / Selcal
• Collins Radar Altimeter Alt- 55B
• Dual VG-206D Vertical Gyro
• Dual DN-104B J.E.T. Directional Gyro
• Dual 3137 RMI
• Dual Universal UNS-1B+ MMMS FMS with GPS 1000 Oceanic
approved
• Honeywell Multi Function Radar Display
• TCAS 2 Bendix King 67A w/change 7.0
• Dual VSI/TRA TCAS Indicators
• TAWS Landmark 8100
• J.E.T. PS–835D and AI-804 emergency battery and attitude gyro
• Sperry Primus 300SL Colour Radar
• Weststar Honeywell RVSM Compliant
• DFDR Fairchild F1000
• CVR Fairchild A-100A
• Artex 406 MHz ELT
Additional Equipment/Features
Cargo door (36")
Ipeco crew seats
Drag Chute
Double wide pedestal
Dual Sealed Lead Acid batteries
Lifeport medical stretcher available
Lifejackets
Interior
Interior Last Refurbished:
2016
6 passenger interior with three chairs and a rear three place divan. Seats are grey leather. Forward potty seat. Refurbished 2016
Exterior
Stripe Colors:
Blue and Grey
Send a message to Bill McNease at JBA Aviation, Inc.