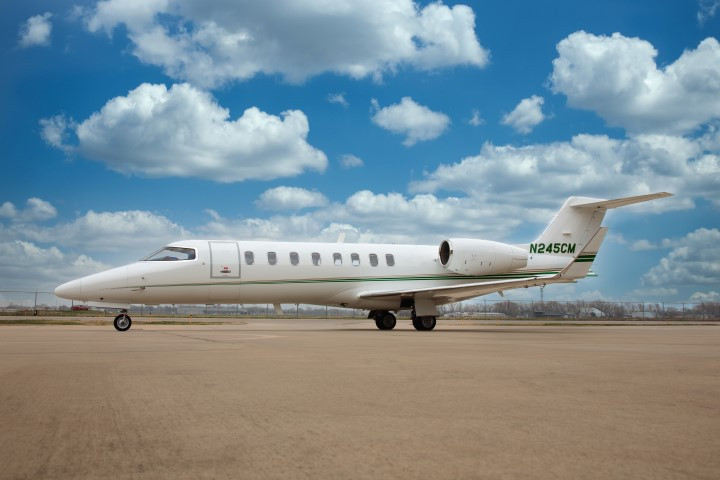 2009 Bombardier Learjet 45XR
Price: Make Offer
Serial Number:

0403

Tail Number:

N245CM

Hours:

4,290

Cycles:

3,187
One owner since new
All major maintenance by Duncan Aviation LNK or Bombardier ICT since new
ICT based since new
4,290 Total Time
Engines and APU on MSP
UNS 1Ew WAAS/LPV
Standard double club interior
Airframe
Thrust Reversers
Pulsating recognition Lights
EROS O2 Masks
Rosen Cockpit Sunvisor
3 110 Volt AC Cabin Outlets
Aircraft Locking Package
Tail Illumination Logo Lighting
Pylon Lights
Tailcone Baggage Restraint Net
Fixed Aft Ballast for Improved 8/9 Seat Operations
Engines
Engine Program Coverage:
MSP
APU
Description:
Honeywell RE-100
Total Time Since New:
1,653
Total Cycles Since New:
3,351
Avionics
Honeywell Primus 1000 EFIS Avionics Suite
Dual Universal UNS1Ew FMS w/ WAAS LPV
Universal SSDTU Data Transfer Unit
Advanced Performance Database
Four Honeywell Display Units DU-870
Dual Honeywell AV-850A Audio Panels
Dual Honeywell RM-855 Radio Tuning Units
Dual Honeywell RCZ 833M Coms w/ 8.33 khz spacing
Dual Honeywell Mode-S ADS B Transponders
Dual Honeywell RNZ-851 Navs w/ FM immunity
Dual Honeywell DMEs
Single Honeywell ADF
Honeywell Primus 660 Digital Weather Radar
Dual Honeywell LCR-100 AHRS
Dual Honeywell AZ-950 Air Data Computers
Honeywell MK V EGPWS w/Windshear
Honeywell RT-300 Radio Altimeter
Honeywell TCAS 2000 TCAS II w/ Change 7
Honeywell SSCVR
Bendix/King KHF 1050 HF Com
Honeywell AFIS
XM Graphical Weather for EFBs
Artex C406-2 406 Emergency Locator Transmitter
Collins ICS-200 Iridium Satcom
Dual Angle of Attack Indicators
Navigation and Compliance
Additional Equipment/Features
ADS-B Out
RVSM Current
Increased Max Take-Off Weight to 21,500
Increased Max Zero Fuel Weight to 16,500
Fixed Aft Ballast for improved 8/9 seat operations
Thrust Reversers
Pulsating recognition lights
Dual Angle of Attack Indicators
EROS Oxygen masks
Rosen Cockpit sunvisor assembly
Relocated DTU to center pedestal
Heated baggage compartment
Three 110 Volt AC Cabin Outlets
Coffee warmer in Galley
Airshow 410 moving map display
Single 10.4" Video Monitor
Galley Rest Seat
Belted Lav Seat
Lav Sink with Lighted Vanity Mirror
Aircraft Locking Package
Tailcone baggage restraint net
Tail illumination logo lighting package
Pylon lights
Maintenance Interphone
Interior
This Learjet 45XR was completed in an executive double club configured for eight passengers. The cabin headliner and upper sidewalls are neutral colored ultra-leather and transition nicely down to the drink rails. Passengers can enjoy the comfort of grey leather covered seats accented by matching lower sidewalls. A right hand galley refreshment center in the forward cabin features a solid countertop and hot and cold beverage service, rest seat. The cabinets are finished in High Gloss wood veneer with satin nickel fixtures throughout the cabin. This aircraft is equipped with an aft belted lavatory With Lighted Vanity. The interior is original. The overall condition is excellent for the vintage and year of this aircraft.
Entertainment
Display TV Monitors:
Single 10.4" Video Monitor
Airshow System:
Airshow 410 Moving Map Display
Exterior
Base Paint Colors:
Matterhorn White
Stripe Colors:
Kelly Green and Executive Gold WP Gray Trim
Overall Matterhorn White with Kelly Green and Executive Gold WP Gray trim.

The exterior is original. The overall condition is excellent for the age of this aircraft
Weights
Max Takeoff Weight:
21,500.00
Max Zero Fuel Weight:
16,500.00
Send a message to Doug Roth at Duncan Aviation, Inc.