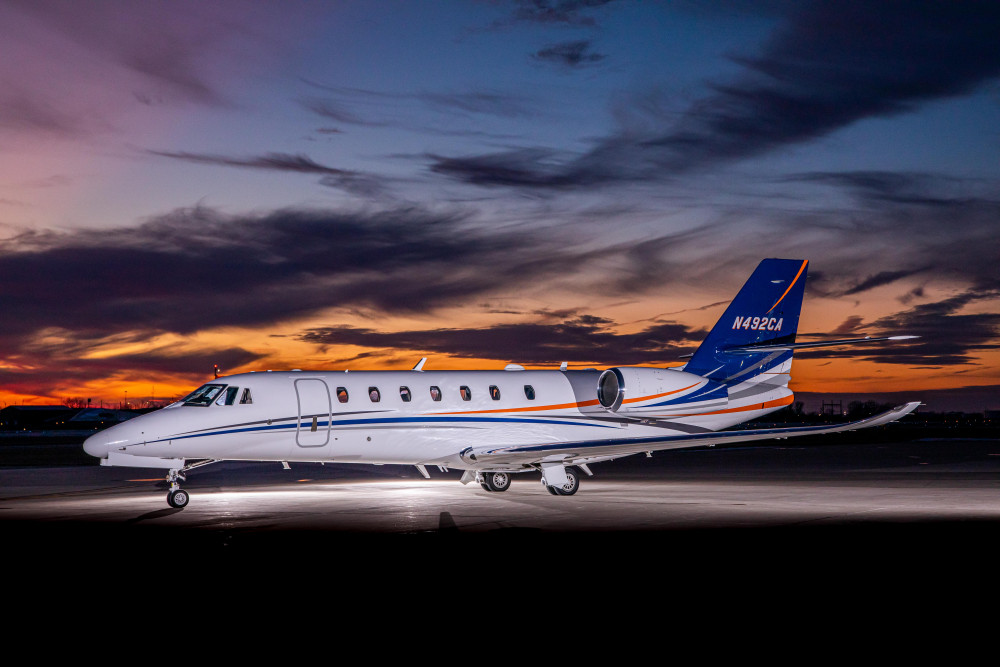 2016 Cessna Citation Sovereign+
Price: Call for Price
Serial Number:

570

Tail Number:

N492CA

Hours:

1,298

Cycles:

804
Fully programmed. Impeccable condition. Garmin G5000 Integrated Flight Deck, ADS-B, SVT, ATG-4000 & Inmarsat SwiftBroadband. FANS/CPDLC & Link 2000+ post-delivery commitment.
Offered by:

Lincoln, NE
Airframe
Program Coverage:
Cessna ProParts
Maintenance Tracking:
CESCOM
Duncan Aviation is proud to bring Citation Sovereign+ Serial Number 570 to the market. As the newest pre-owned Sovereign+ available today, serial number 570 represents the kind of aircraft buyers are looking for: a no damage history, single-owner aircraft that has always been hangared. It is also home based in the US Midwest, a thousand miles from the nearest ocean. For additional assurance, serial number 570 has two (2) years remaining on its factory warranty, and is enrolled on all major Textron programs including PowerAdvantage+, AuxAdvantage, and ProParts.

Serial number 570 is equipped to fly anywhere in the world at any time. Its exceptional hour to cycle ratio demonstrates the current owner's use of the aircraft in long range and international missions. There are few, if any, options that the initial owner did not select. Key features include:
• Synthetic Vision Technology
• Automatic Emergency Descent Mode
• ADS-B Out and In
• Dual Diversity Transponders and European Enhanced Surveillance
• Digital Flight Data and Cockpit Voice Recorders
• Aviator 300 Inmarsat Broadband Voice/Datalink /WiFi
• GoGo ATG-4000 WiFi
• WAAS/LPV Precision Navigation
• CPDLC, FANS 1/A+, and Link 2000+ (Post Delivery Commitment)
• Digital Charts, Satellite Weather, Class A TAWS, and more

Serial number 570 appears nearly new cosmetically with a tasteful selection of the best materials, colors, and patterns. The aircraft features the most desirable nine (9) passenger configuration with dual club groupings and a forward side facing seat. Serial number 570 features an ample forward refreshment center in a deep mahogany satin wood finish. Cabin entertainment is provided by dual (2) DVD players, dual (2) bulkhead monitors, a 10-disc CD player, and Airshow 400.

The Sovereign+ is an aircraft designed for maximum efficiency, low operating costs, short runway performance, and exceptional handling. The cost of operation is so attractive that it rivals some light jets. Because the current owner has ever increasing international travel demands, he is actively searching for a replacement aircraft. If you are looking for an exquisite, turn-key Sovereign+, go no further than serial number 570.
Engines
Engine Program Coverage:
PowerAdvantage+
APU
Description:
Honeywell RE-100CS
APU Program Coverage:
Aux Advantage
Avionics
Maintenance Program:
ProParts
Garmin G5000 Integrated Flight Deck System
Program: ProParts
• ADF: Collins ADF-4000 Receiver
• AHRS: Dual LCR 100N Inertial Hybrid Navigators
• Air Data System: Dual Garmin CDC 7400 Air Data Computers
• Cockpit Voice Recorder: L3 FA2100 CVR/FDR
• Dataloader: Dual Collins DCU-5010s USB Loaders
• DME: Dual Collins DME-4000
• EGPWS/TAWS: Garmin Class A EGPWS
• Emergency Locator Transmitter: Artex A406 MHz ELT w/Nav Interface
• Flight Data Recorder: L3 FA2100 CVR/FDR
• Flight Displays: Three (3) GDU 1400 Touchscreen Electronic Display Units
• Flight Integration Units: Dual Garmin GIA-63W IAU's
• FMS: Dual Garmin G5000 Integrated FMS Systems
• Garmin GDR-66 VHF Datalink
• GPS: Dual Garmin SBAS/WAAS/LPV Receivers
• HF: Dual Honeywell HF-1050 w/SELCAL
• Radar Altimeter: Garmin GRA 5500
• Radio Control Units: Dual Garmin GTC 570 Touchscreen Controllers
• Satcom/Datalink: Dual Garmin GSR 56 Iridium Transceivers
• Satellite Weather: Garmin GDL 69A XM Receiver
• Standby Horizon: L3 GH-3900 Instrument System
• TCAS: Garmin TCAS-II w/change 7.1
• Transponders: Dual Garmin GTX 3000 Mode S
• Weather Radar: Garmin GWX-70 w/Turbulence Detection
Interior
Nine (9) Passengers with two (2) four-place club seating groups, and one (1) side-facing passenger seat.

Full service galley with hot and cold beverages and microwave oven. Lav with complete vanity.

Aircell ATG-4000 and Aviator 300 Inmarsat SwiftBroadband (with automatic switching), Aircell Axxess II router and tranceiver, entertainment and sound system with media server, and speakers, Sirius XM radio, in-seat outlets and USB ports, media share USB port with auxiliary audio jack, sound system, HD video inputs, two (2) in-cabin Aircell phones.
Exterior
Base Paint Colors:
Snow White
Stripe Colors:
Calypso Orange, Gamma Grey, Charcoal Gray, and Elite Blue
Overall Snow White, with Calypso Orange, Gamma Grey, Charcoal Gray, and Elite Blue Striping. Excellent condition.
Send a message to David Coleman at Duncan Aviation, Inc.