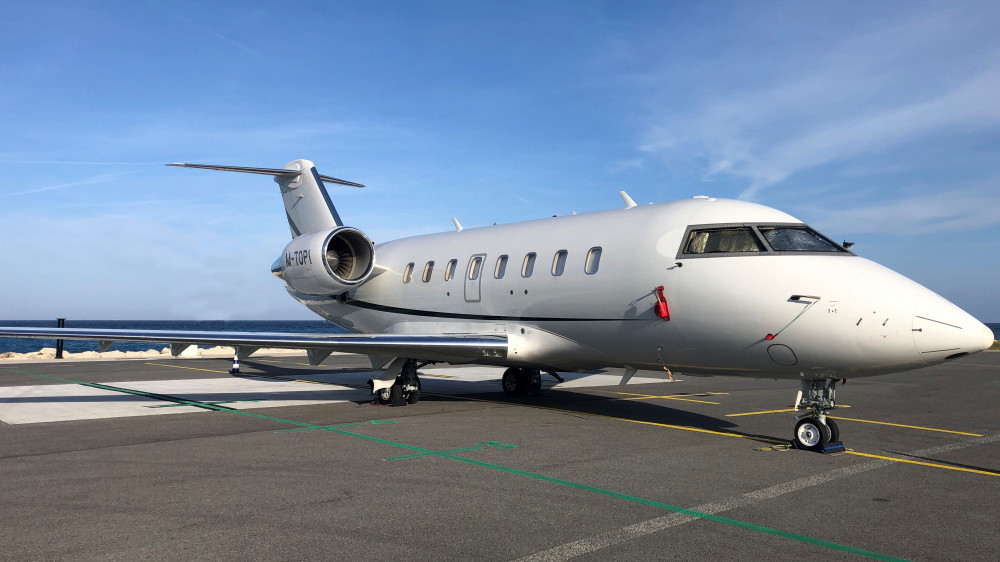 2008 Bombardier Challenger 605
Price: Make Offer
Serial Number:

5780

Tail Number:

M-TOPI

Hours:

1,469

Cycles:

696
Delivered 2009. 48 mo scheduled 04/2021; perfect time for PPI. 12 PAX. Fully programmed. ADS-B, FANS-1/A, WAAS/LPV, Link 2000+, CPDLC. ProLine 21 Advanced. 96-month and LG inspections c/w 2017 at Duncan Aviation.
Airframe
Program Coverage:
Bombardier SmartParts Plus
Maintenance Tracking:
CAMP
Duncan Aviation are proud to offer Bombardier Challenger 605 serial number 5780, M-TOPI. This aircraft has been owned since delivery by a single owner and has been flown almost exclusively from Day 1 by the same pilot.

The engines are enrolled on GE OnPoint and the airframe on SmartParts Plus (with a credit balance held in the account ready for transfer to the new owner). The APU is on Honeywell MSP.

A 96 month inspection was completed by Duncan Aviation in July 2017, along with the Landing Gear, and the aircraft has recently been back to Duncan Aviation for the installation of the Proline 21 Advanced avionics package.

With ADS-B, FANS-1/A, WAAS/LPV, Link 2000+ and CPDLC already installed, this aircraft is totally turn key for any buyer.

Paint and interior are original but in exceptionally good condition, having been hangered throughout its life.

This Challenger 605 has an exceptional pedigree and has enjoyed maintenance undertaken by leading MRO facilities, including Bombardier and Duncan Aviation. No expense has been spared as is illustrated by the recent avionics upgrades.

The aircraft is based in the UK and available for inspection upon request.
Engines
Engine Program Coverage:
GE OnPoint
APU
Description:
Honeywell GTCP36-100(E)
Total Time Since New:
1,265
Avionics
Avionics Package: Collins Pro Line 21 Advanced

• ADF: Dual Collins ADF-462
• Autopilot: Dual Collins FCC-4006
• Communication Radios: Triple Collins VHF-4000
• CVR: L3 FA2100
• DME: Dual Collins DME-4000
• EFIS: Collins AFD-5220 4-tube
• FDR: L3 FA2100
• FMS: Dual Collins FMS-6000
• GPS: Dual Collins GPS-4000S
• Hi Frequency: Dual Collins HF-9031A w/ Avtech CSD-714 SELCAL
• IRS: Dual Honeywell LASEREF V
• Navigation Radios: Dual Collins NAV-4000
• Radar Altimeter: Collins ALT-4000
• SATCOM: ICG ICS-200 Iridium
• Stormscope: L3 WX-1000
• TAWS: Honeywell Mark V EGPWS
• TCAS: Collins TTR-4000 w/change 7.1
• Transponder: Dual Collins TDR-94D Mode S
• Weather Radar: Collins WXR-854 (4-color)
Navigation and Compliance
Inspections
Inspection Type
Performed
Next Due
Interior
Executive 12 passenger configuration, with forward four (4) place club seating and fold out tables, aft four (4) place conference group seating across from four (4) place divan. Neutral interior colour scheme with beige leather seating and chocolate carpeting throughout cabin.

Forward galley with TIA high temperature oven and Wavejet microwave. Aft fully enclosed lavatory.

Collins Cabin Management System, 21 monitors throughout cabin, Airshow ASKi Interactive, and Dual DVD/CD Player.
Entertainment
Display TV Monitors:
21 monitors throughout cabin
Airshow System:
ASKi Interactive
Cabin Management System:
Collins CMS
DVD/CD Players:
Dual DVD/CD player
Exterior
Base Paint Colors:
Matterhorn White
Brilliant Matterhorn White with Navy Blue striping and Medium Silver detail.
Weights
Max Takeoff Weight:
48,200.00
Send a message to Tim Barber at Duncan Aviation, Inc.