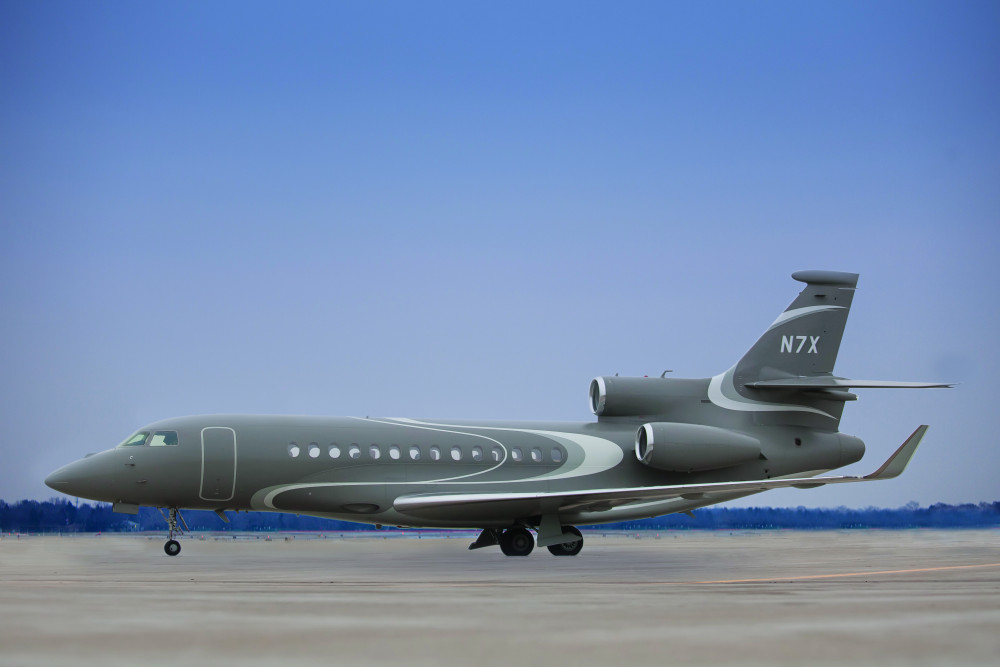 2008 Dassault Falcon 7X
Price: Call for Price
Serial Number:

0033

Tail Number:

N7X

Hours:

2,050

Cycles:

741
Enrolled in HAPP, CASP, and CAMP
Engines on ESP Gold
APU on MSP Gold
ADS-B Out/WAAS/LPV/CPDL/FANS 1-A
Offered by:

Lincoln, NE
Airframe
Maintenance Tracking:
CAMP
AIRFRAME TOTAL TIME: 2050.8 Hours
LANDINGS: 741
Securaplane 500 Security Management
New brake design for quieter brake operation: SB 7X-431-R1, 4/25/19
Engines
ENGINES: Pratt & Whitney Canada PW-307A
Engine Program Coverage:
ESP Gold
APU
Description:
Honeywell GTCP 36-150 (FN)
APU Program Coverage:
MSP Gold
Total Cycles Since New:
1,602
Avionics
Maintenance Program:
HAPP and CASP
Honeywell Primus EASy II Cockpit
Navigation
WAAS-LPV
ADS-B Out
CPDLC-ATN
CPDLC-FANS I/A
Synthetic Vision
Auto Descent Mode
Triple Honeywell EASy Flight Management Systems
Dual Honeywell NV-875X VOR / ILS / MKR / GPS
Dual Honeywell DF-855 Automatic
Direction Finder
Honeywell EASy Electronic Jeppesen Charts

COMMUNICATIONS
Dual Honeywell TR-866B VHF Communication
Third Honeywell TR-866B VHF Voice/Data Radio
Dual Honeywell KHF-1050 High Frequency Communications
Honeywell SELCAL (HF/VHF)
Triple Honeywell AV-900 Flight Deck Audio Panels
Thrane Aero HSD+ SatComm Aero H+ w/ 3 Sigma 7 Handsets
Honeywell RESCU 406AF Emergency Locator w/ Navigation Interface
Cabin Brother FAX 575 Facsimile/ Copier
Honeywell EASy Communications Management Function (CMF) w/ AFIS / SATAFIS
Miltope TP-4840 Flight Deck Printer

PULSE
Honeywell Primus 880 Weather Radar
Dual Honeywell DM -855 Distance Measuring
Dual Honeywell XS-857A Air Traffic Control
Dual Honeywell KRA-405B Radar Altimeter
ACSS CAS 3000 Traffic Alert & Collision Avoidance

FLIGHT CONTROLS
Honeywell EASy Flight Control
Honeywell EASy Modular Avionics Units
Honeywell EASy Electronic Display and Management
Suresight CMC "2600" Enhanced Flight Vision System (EVS)
Rockwell Collins HGS-5860 Heads Up Guidance System (CAT I Manual & CAT II Monitoring)
Honeywell EASy Autothrottle

REFERENCE SENSORS
Triple Honeywell LASEREF V Micro Inertial Reference Unit (MIRU)
Air Data Goodrich Smart probes
Enhanced Ground Proximity & Windshear Warning System (EGPWS)
Honeywell Global Positioning System (2 EA)
Honeywell EASy Standby Instrument Display
Honeywell EASy Central Maintenance Computer
Honeywell Attitude Heading Reference System

RECORDING
Dual Honeywell Voice/Flight Recording System
Honeywell Quick Access Reference (QAR)
Cabin Systems
Collins Cabin Management Systems
Dual Collins 21.3" LCD Forward Monitors
Dual Collins 17" LCD Aft Monitors
Collins DVD/CD/MP3 Player
Collins LCD Touchscreen Pax Controls
Collins AirShow 4000
Collins Tailwind Sat TV (Domestic/European/Middle East)
Baker Audio Amplifiers (3 EA)
DTSystem Cabin Speakers
DTSystem Cabin Amplifiers
LAN Ethernet Capability (3 Ports)
802.11g Wi-Fi
Collins RF Remote Control
FAX, Copier, Scanner, Printer Interfaced with Aero H SatComm

SECURITY SYSTEM
Securaplane 500 Security System
Two Securaplane Video Cameras:
Belly and Tail Fin Mounts
Securaplane Camera Controller
Securaplane Digital Video Recorder
Honeywell EASy Video Interface
Inspections
Inspection Type
Performed
Next Due
Interior
Interior Last Refurbished:
2008
This spacious luxury aircraft accommodates 13 passengers and 3 crew.
The stunning interior features a forward lav, and right hand forward galley complete with elegant granite countertops, TIA microwave, TIA oven, Iacobucci Espresso machine, wine bottle, and china storage.
The aircraft interior also features four, forward place cabin conference club seats with electric tilt and recline functions, covered in warm-toned light tan leather. The aft cabin includes two, three-place belted divans. The right hand divan is certified to carry
two passengers at take off and landing.
The divans are upholstered in an inviting paisley fabric with custom,
coordinating pillows. This aircraft also features a custom carpet with an attractive center aisle pattern, and a comp limenting ultraleather
headliner.
The woodwork is a beautiful Camphor Burl veneer with a high gloss
finish, complimented by brushed nickel fixtures and plating throughout.
Interior completed by Dassault Falcon Jet, Little Rock, Arkansas in 2008
Entertainment
Cabin Management System:
Collins
High Speed Internet:
Swift Broadband
Exterior
Base Paint Colors:
Storm Cloud
Stripe Colors:
Vestal White, Gamma Gray
Completed by Dassault Falcon Jet, in 2014
Send a message to Rene Cardona at Duncan Aviation, Inc.